E-font Calligraphy Teacher: A new way to inherit the traditional culture
2014-07-18 16:34:23
(Chinaculture.org) By Stella
A boy works on his calligraphy at an event to promote E-Font Calligraphy Teacher.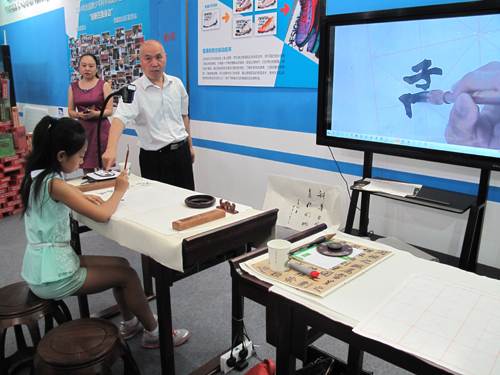 A young girl at an event to promote E-Font Calligraphy Teacher tries her hand.
An adult practices calligraphy and carefully writes Chinese characters.

As the gem of Chinese traditional art, calligraphy is central to Chinese culture and aesthetic education. To more efficiently bestow its ancient legacy to the next generation and keep it interesting to day's students, E-font Calligraphy Teacher has been launched .

The perfect fusion of traditional instruction and high-tech platform simplifies calligraphy education and makes it more entertaining and systematic.

Beijing E-font Technology Corporation excels in professional calligraphy education and obtained it as exclusive intellectual property and large-scale manufacturing base. The company will devote more resources to promote this traditional art and popularize it across the nation.

E-font Calligraphy Teacher can effectively enhance the interests of students as well as the help popularize calligraphy in elementary and secondary education by applying advanced information technology and integrating rich calligraphy education resources.
We recommend: