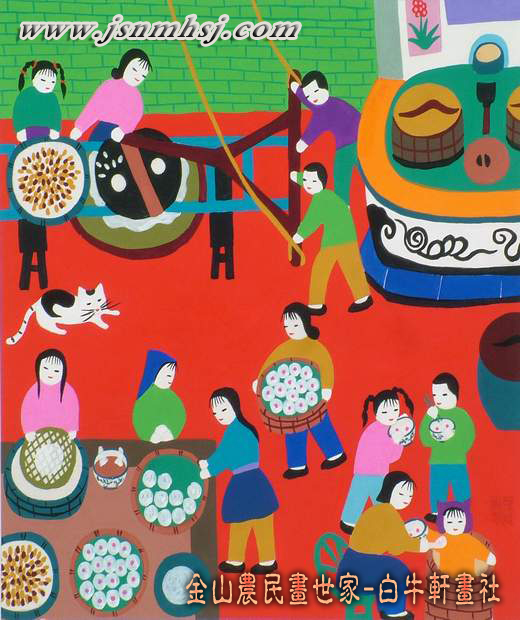 Jinshan Farmer Painting [Photo/jsqnw.gov.cn]
Simplistic, colorful art lures visitors occupying an area of 4,500 mu (3 square kilometers), Jinshan Farmer Painting Village is sited in Zhonghong Village in Fengjin, a water town in Jinshan District.
The village combines dining, entertaining and art together. Here visitors can see the creation of farmer paintings and relax their heart and soul under a natural environment.
When stepping into the village, visitors encounter an exhibition venue that showcases nearly 61 Jinshan farmer paintings, each a representative work from a period of time. Occupying 300 square meters, the exhibition hall is built in a folk architecture style.
Here, visitors can approach a farmer painting and get a clear timeline about its origin, its development and its current condition. They can chat with a farmer about his paintings and purchase works to take home.
But the village is not only about farmer paintings. It is divided into five sections with different functions. For example, the southern kitchen garden planted with fresh vegetables of the season provides an opportunity for the city's children to have an agricultural class.
Some vegetables are also for sale to visitors. The garden also teaches about irrigation, ranging from human labor to electric irrigation.
Mini-golfing is also an interesting game for visitors of all ages.
Besides these entertaining activities, the village offers farm-flavored food. There is a two-story restaurant with fresh raw food at reasonable prices. Those interested may visit the restaurant's traditional kitchen.
At the Village Carnival, there are several traditional games that once prevailed, such as swing on the water and kicking shuttlecock. Some older visitors may find their childhood memories come back through these games.
We Recommend: