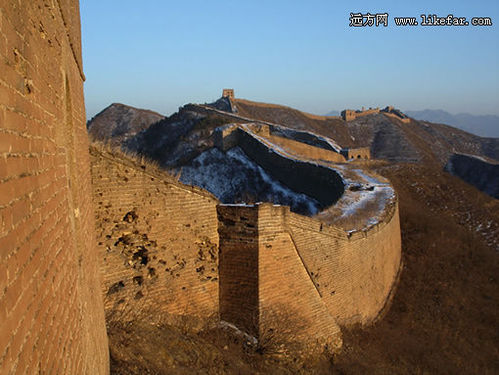 A glimpse of Gubeikou Great Wall [Photo/likefar.com]
Tourist Tips:
The Gubeikou Great Wall features different and distinctive vistas in all four seasons. But take care in summer, when lightning strikes can be common. Remember, never use your cell phone during a thunder storm.
Transport:
Gubeikou is about 100 kilometers from downtown Beijing. Tourists can take a tourist shuttle or drive to the destination. If you are driving, take the Beijing-Chengde Highway to Miyun, leave the highway at exit 23 (Taishitun Exit) and enter the 101 National Highway. You will reach your destination at the Gubeikou Tunnel.
Itinerary:
If you just want to explore the scenery, a one-day trip is usually long enough. However, Gubeikou is a place with a long history and rich culture. If you are interested in history, read up before starting your trip, so you know what to look out for.
Recommended Itinerary:
1. A leisure and culture tour to Gubeikou Town (two days)
Day 1:
Morning: Memorial Hall – Dahua Watchtower – Ancient Town – Ancient Royal Road – God of Medicine Temple – God of Wealth Temple – Linggong Temple – Three-bore Well
Afternoon: Palace Lantern Show – Culture Yard – Folk Customs Exhibition Room – Erlang Temple – Winding Yellow River Lantern Maze – The Seven Martyrs Monument
Evening: Watching movies in the Culture Yard or visiting the Winding Yellow River Lantern Maze
Day 2:
Hiking from Gubeikou Town to Panlong Mountain, returning to Beijing after lunch.
2. Outdoor Hiking
Ancient Town – Panlong Mountain Great Wall – Jinshanling Mountain Great Wall
We Recommend: