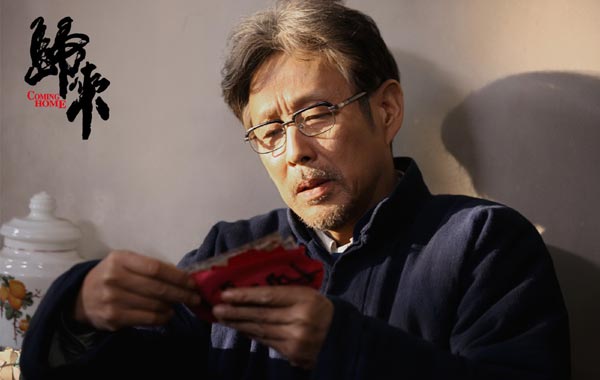 Chinese actor Chen Daoming plays the protagonist Lu Yanshi in Zhang's latest film "Coming Home." Photo provided to China Daily
It was no surprise when Zhang Yimou's latest film Coming Home raked in 82.4 million yuan (about $13.47 million) at the box office on its opening weekend.
The highly anticipated drama made 30 million yuan on May 16, an opening-day record for a Zhang movie, according the film's production company Le Vision Pictures.
Critics predict the film will earn between 200 million and 300 million yuan, which may be a record for an arthouse film in China. Zhang has seldom had to worry about the box office with films such as Hero (2002) grossing 250 million yuan, the highest ever in the country.
But this time he abandoned commercial aspirations to return to one of his favorite themes: a love story with twists and turns. Coming Home is Zhang tugging at his artistic roots, critics say.
Based on the last 30 pages of The Criminal Lu Yanshi, a novel by Yan Geling, Coming Home, which stars Gong Li and Chen Daoming, shows how a former professor attempts but fails to reach his wife as he is transferred from one labor camp to another in the early '70s. He returns home after three years only to find his wife has amnesia.
The romantic film has three main characters and its plot and settings are simple - similar to Zhang's previous stories Red Sorghum (1987) and Ju Dou (1992).
We recommend: