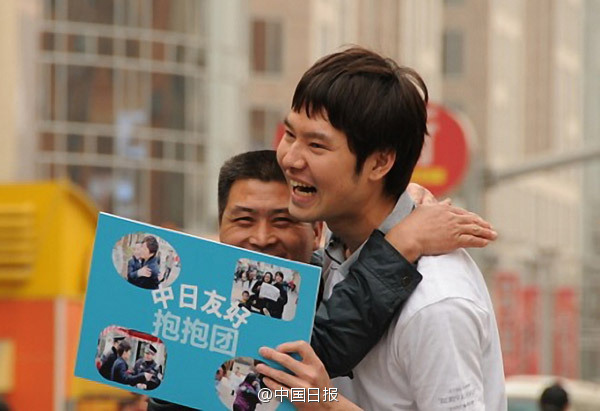 [Photo / weibo.com]
"The moment when people hug each other, they feel very close," said 20-year-old Japanese student Kohei Watanabe, who was on a mission to bridge the gap between China and Japan.
Watanabe, an exchange student at Peking University, teamed up with five others on April 10 and eight others on April 13 in Beijing, offering hugs to passers-by in the city. Locations for his activities were well-chosen.
"Wangfujing is among the busiest areas in Beijing, while Yuyuantan park is famed for its cherry blossoms, one of the national attractions in Japan," he said.
They composed a song for the occasion. "It starts from here, the first step is to change ourselves," its lyrics read. "Let's make the same future so we can all hold hands together."
Watanabe lived in Shanghai for six years as a child while his father was working in the city. After he went back to Japan, the boy was surprised to find his compatriots had little knowledge about China.
When talking about China, many Japanese young people think of the historical Three Kingdoms because of computer games, as well as Chinese cuisine, he said. "In some other areas, they usually have misunderstanding," he added.
Recent years have seen the relationship between China and Japan plunge to a low point because of territorial disputes and Japanese officials' visits to the controversial war-linked Yasukuni Shrine.
Watanabe said he often discusses the need to improve Sino-Japanese relations with his Chinese friends. "But actions speak louder than words," he said.
Chinese and Japanese people are both relatively reserved in nature, and hugging a stranger is a bold gesture in the two cultures.
"But if we reach out our hands, we can make a change," he said.
He organized a similar activity in Shanghai last Spring. It proved successful, although a police officer eventually approached him.
"He was quite nice, contacting his colleagues to help us," he said.
Watanabe was touched and hugged the policeman as well.
A video clip of the event was viewed some 7,000 times after it was uploaded online. More than 100 people left comments, mostly positive.
"A Japanese youngster wrote, 'I wasn't interested in China at all in the past, but after watching this, I know I should learn more about that country,'" he said. "You see, that's the effect."
Feeling encouraged, Watanabe decided to do more.
This time he and his friends designed a special T-shirt. On the white T-shirt was the Chinese character for "friend" with the national flags of China and Japan. The hug team members held blue boards that read "promoting Sino-Japanese friendship with hugs."
Watanabe admitted that he thought of quitting due to the tension between China and Japan, but decided to carry on.
From a video clip he showed Xinhua, it was obvious the student felt a bit shy at the beginning, but after hugging the first pedestrian, a young woman in black, he gained more confidence.
We recommend: