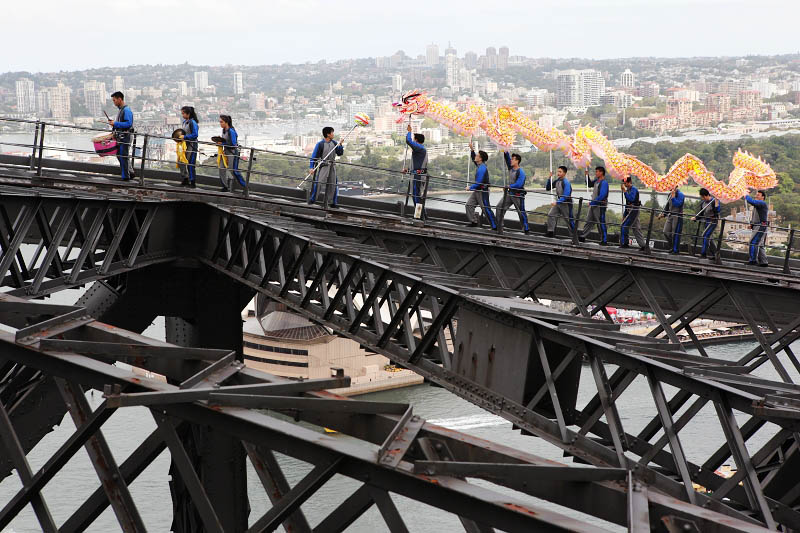 Chinese Dragon dances to the top of Sydney Harbour Bridge. (People's Daily Online / Ma Xiaolong)
A gold and white Chinese Dragon today scaled the eastern arch of the Sydney Harbour Bridge. The world-first was part of a traditional dance procession welcoming the Chinese New Year of the Horse.
The celebration commemorated the one year anniversary of The Mandarin Climb experience and was witnessed by 42 VIP guests who have contributed to BridgeClimb success in the Chinese market.
The eye-catching Chinese dragon, 15 metres in length, was manned by nine performers who gracefully twirled and swayed the mythological creature during its ascent.
Todd Coates, BridgeClimb CEO shared some major successes over the last 12 months, "Since the inception of The Mandarin Climb in January 2013, BridgeClimb has gone from strength to strength in its partnerships with the Chinese market. Today, as the symbolic Chinese Dragon danced to the summit of the Bridge, we witnessed the intertwining of one of China's most celebrated cultural traditions with one of Australia's most recognised icons. It was another demonstration of BridgeClimb's ongoing commitment to foster partnerships in the Chinese market."
Australia is a key holiday destination for Chinese visitors, with over 600,000 arrivals last year. The Mandarin Climb, which departs daily, has contributed to the 30 per cent growth in Chinese climbers seen in the last year.