A competition staged by the national theater gives young composers a chance to shine on the world stage, Chen Jie reports.
Xiao Ying was living a dream, standing in front of a full-house at the National Center for the Performing Arts.
"I've imagined standing on this stage so many times. Last year's failure did not let me down. I did not give up. Instead, I kept composing. I love art and music," said Xiao, 26, when he won the National Center for the Performing Arts Young Composer Program on Dec 16.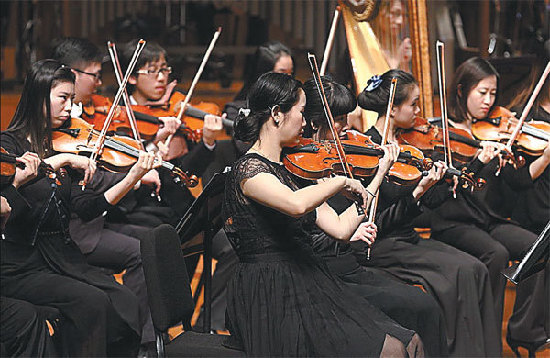 Prize-winning works of the National Center for the Performing Arts Young Composer Program are played at the celebrated venue, an effort to promote China's new classical-style music. Photos Provided to China Daily
That evening, 10 jury members listened to six final works played by the NCPA orchestra under the baton of conductor Zhang Yi. Xiao earned the highest score with The Cloud on the Wishful Side, a piece combining atonality, pan-tonality and tonality that also features pipa, a Chinese traditional plucked instrument.
As Xiao thanked the NCPA for giving young composers the opportunity to be heard, the jury head Chen Qigang stood at his side.
"As a composer myself I know how difficult it is to write every score," Chen says. "The result is not important now. They all did a great job and we like every piece. The point is their music can be performed and heard here."
It was Chen who proposed launching the competition in September 2010. The music director of the 2008 Beijing Olympic Games and the last student of Olivier Messiaen (1908-92) believes composing is important to music's development in China, noting that the country has many world-class soloists and conductors but lacks contemporary composers and great works.
"Young composers need support. They need to be known, and their works need to be heard. That's why we arrange professional orchestras to perform these works in formal concerts and we record the works and introduce them to conductors, orchestras and music festivals," Chen says.