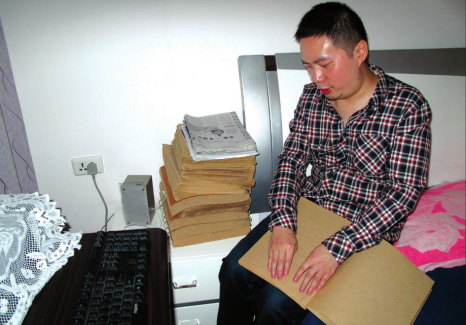 Zheng learns from his Braille English textbook, New Concept English.
Wearing a plaid shirt and blue jeans, Zheng sits in front of his computer "reading" websites. When he moves the mouse, the text is read aloud by a special software program. His bedroom is filled with books and newspapers, as well as a computer, on which he spends the majority of his time, and describes it as "the main source to know the world". He also downloads oral study materials online.
"This is my English textbook, New Concept English," he says, picking it out from the stack. The Braille book is only literate to him; from an outsider's eyes, it is paper with nearly invisible dots punched into it.
In his parents' eyes, Zheng has been a sensible, independent and decisive man from a young age.
Zheng made all the major decisions by himself, including studying abroad and choosing majors.
"We just follow his decisions," the mother says.
Born and raised in a small town in east Chongqing municipality Qianjiang, Zheng has never had the chance to see light or color. He was diagnosed as totally blind at birth.
With his first seven years spent in the small town, Zheng started his formal education at the Chongqing School for the Blind, the only special school for the visually impaired in the city, offering children education from first grade to junior high school. Due to the three hours required for travel from his hometown to the school, Zheng was enrolled as a boarding student. "The majority of my schoolmates become massage therapists after graduation from junior high school. This occupation seems to be the only way for our blind people to feed ourselves," he says.
Zheng refused such "so-called destiny".
"I do not hate to be a therapist. But as a teen, I wanted to fight against the 'fate to be a therapist', when everybody told you that in China, it is the only way out for the blind," he says.
After graduation, he went to Qingdao to continue his senior high school, aiming for universities.
"It was the only school for the blind offering ordinary senior high school education then," he says. So the 15-year-old boarded in a city about 1,900 km from home.
However, when he completed high school studies and was preparing for college, he found that as a student with a visual disability, massage and acupuncture was the only major available to him.
"I returned to the 'right track' for the blind," says Zheng, who had no other choice but to become a college student at Changchun University in 2001.
After gaining a bachelor's degree in massage and acupuncture, Zheng entered Qianjiang Hospital of Traditional Chinese Medicine, as a physical therapist, which he quit after three years' practice.
He was ready to try something else.