Arctic Life, a photo exhibition currently presented in Beijing, gives a glimpse of the cold, mysterious landscape and the residents of the Arctic Circle to the outside world.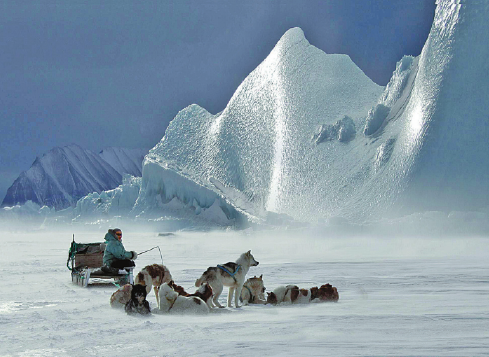 A hunter with his dogs in Greenland.
Photographer Wang Jiannan, 63, who has visited some of the coldest places on the Earth 17 times in the past eight years, chose 423 photos from more than 30,000 pictures he took for the exhibition. They range from the daily lives of the indigenous people to the Arctic's unique plants and animals.
"I want to show a real Arctic, a place full of life, which people have never seen before," says Wang, who started his Arctic adventure in 2005.
A former photographer and later editor-in-chief at a daily newspaper based in Harbin, capital of Heilongjiang province in Northeast China, Wang quit his job at age 50. He moved to Canada with his family, where he started a web television station with his friends for the Chinese families living there.
After reading a report about a local youth driving to the Arctic, he decided to make his maiden trip there with his wife.
With the money from selling the TV station, they traveled to Inuit settlements in the Canadian Arctic, and started their brand-new life.
Prior to the trip, the only impression Wang had of Arctic lands was from books, mostly portraying the place as "sleepy, quiet and freezing". But it turned out to be a different world from what he expected.
Through his lens, he brings to life snow white polar bears, Arctic light as well as how climate change and global warming affect the local eco-system and the lives of people there.
"I saw how the native people lived a mixture of modern and traditional lifestyles. I saw how the development by human beings badly damaged the land, the animals and the environment," says Wang. "On the one hand, I felt amazed by the scenery and people's way of living, but on the other hand, I knew that everything would be different or gone in the coming years."