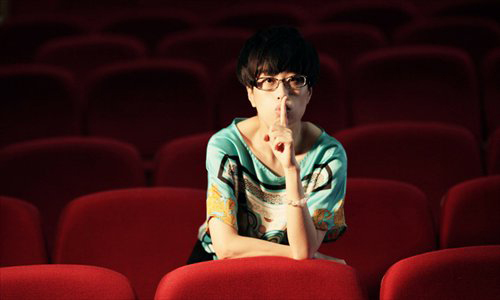 Yu Manwen, the 32-year-old Kunqu Opera performer and drama director (GT)
When she first went to the theater to watch Kunqu Opera, Yu Manwen was only 14 years old. "I remembered it was the story of Qiangtou Mashang (Over the Wall) performed by Kunqu artists Yue Meiti and Zhang Jingxian," Yu recalls. At the time, Kunqu Opera seemed just another old art form irrelevant to modern life: "It just looked like Peking Opera." The teenager never imagined that one day her life would be bound up with Kunqu Opera, the traditional Chinese art form that has been passed down over the centuries, which is now blooming again.
Recalling the serendipity that brought her to Kunqu, the 32-year-old Kunqu Opera performer and drama director, still remembers vividly how she was deeply touched by the beauty of the ancient art form. "In 2007, I happened to watch the whole story of Changsheng Dian (The Palace of Eternal Youth) performed by the Shanghai Kunqu Opera Troupe. It awoke my memories about the beauty of traditional operas and made me want to seize their unique charm." At the end of 2007, she joined the Shanghai Kunqu Opera Troupe.
Famous for its delicate lyrics and wonderful stories, Kunqu Opera originated from Kunshan, a satellite city in Suzhou, Jiangsu Province, about 600 years ago. Emerging in the early Ming Dynasty (1368-1644), the unique art form dominated the stage for over 200 years and influenced other traditional Chinese operas including Peking Opera and Yueju Opera. Therefore, Kunqu is regarded as the ancestor of a hundred traditional Chinese dramas. In 2001, it was listed as a Masterpiece of the Oral and Intangible Heritage of Humanity by UNESCO. Since then, the historical art has enjoyed a revival in the 21st century.
Meeting legendary performer Zhang Jingxian meant a lot for young Yu Manwen. Zhang started learning Kunqu in 1959, taught by the "Chuan Generation," who prevented Kunqu from disappearance. Playing guimendan (young, especially unmarried, ladies) is Zhang's forte and she is regarded as the first great guimendan performer of our time. Having performed Kunqu for over a half century, Zhang, along with a handful of her contemporaries, is called the "Giant Panda of the Kunqu Stage" by traditional opera fans.
Talking about Yu, Zhang said, "Manwen came into my life as a surprise and I realized that she is the kind of young spirit we need, not only for our troupe but also for Kunqu Opera. With an intelligent beauty, Kunqu is a perfect combination of music, dance, poetry and paintings." With complex skills and modes that have existed for centuries, Kunqu is now confronted with the challenge of survival and development in the modern world.
We recommend:
Education must nurture as well as teach