Classical gardens in Jiangsu province were mostly built adjacent to private residences. The past owners of the gardens were usually retired government officials, who took the natural landscape as their model for creating artistic garden scenery. They would invite the social elite to gatherings in their gardens.
The gardens were therefore, in effect, a continuation of the living space, which gave rise to the practice of a lifestyle of leisure and refined pursuits sought by intellectuals.
This preference featured idealized routines of daily life, including reading, painting, writing and reading out poetry, playing music, tasting tea and wine, playing chess and banqueting.
The practical nature of garden living hence required the gardens to be functional with architectural structures of a great variety, all designed to be in tune with the grace of the natural landscape of the garden.
As such, the crafting of classical gardens was designed to create a utilitarian as well as aesthetic living space where the natural and manmade worlds were closely incorporated. The following aspects were all considered: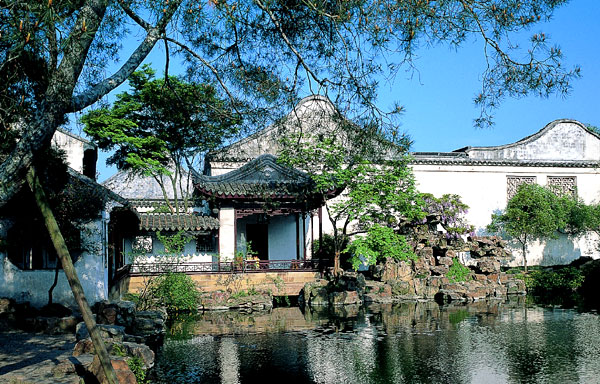 [Photo by Lou Qingxi/For China Daily]
1. Water features
Some garden designers used water features as the theme of the garden. Bodies of water located in the middle of the garden were surrounded by pavilions and halls connected by verandas. Small bridges crossed the water to provide easy access. In a large pond, it was advisable to add some islets.
Situated near the Yangtze River, Jiangsu has the advantage of easy access to the river to build water features. In addition to artistic concerns, the ponds and streams were also used to provide irrigation and lessen the risk of fire.