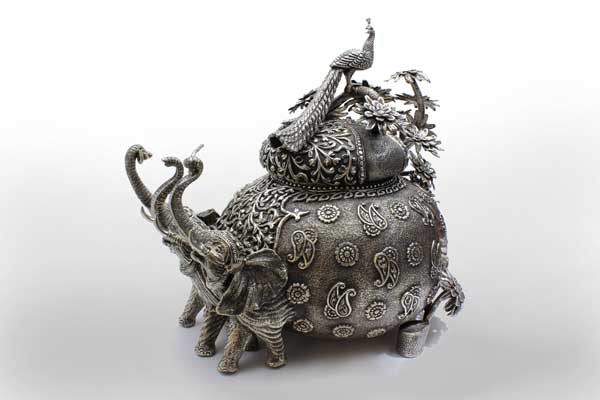 The Royal Maharaja Collection contains statues and home decor derived from the best specimens found in ancient Raj palaces.
Former finance guru Varun Panjwani wants to revive the lost art of crafting decorative silver objects. He shows Rebecca Lo how one-of-a-kind treasures can be solid investments.
Varun Panjwani first came across silver when he was working at Apple.
The technology giant uses it in its speakers and many other products, as the metal's superb electrical conductivity makes it ideal for gadgets.
Panjwani, a Hong Kong resident with an information technology and finance background, was initially looking at silver from an investment angle.
"Silver moves in an exaggerated manner mimicking gold," he explains.
"But while gold is just decorative, silver is used in technology. And there is the craft aspect to silver. It has decorative appeal. If the pieces don't move, they still have intrinsic value."
Panjwani came up with the idea to marry the material aspects of silver with the virtually extinct art of crafting the metal according to the royal palace traditions of northern India.
"The crafting of silver is a dying art," he believes. "It used to be passed from generation to generation. Northern India is rich in history.
"The kings decorated the palaces in the region with textiles and accessories made from silver. As recent generations moved away from crafts and into commercial industries, the art of working silver was lost."
Panjwani set up Silver by Temptations as an extension of his wife's family business, Temptations, in the summer of 2012.
"I spent the first six months sourcing artisans in India," he recalls.
"I go back now on a quarterly basis."
About 70 percent of his artisans are based in India.