Aviation regarded as the key to attracting visitors
The civil aviation sector plays an indispensable role in boosting tourism, experts said at an industry conference on Friday.
"In Chinese, the word 'tourism' is composed of two characters - one means traveling and the other means sightseeing. This represents the importance of the transportation vehicle - you will not be able to travel far without the assistance of vehicles," said Li Mingde, deputy head of the tourism research center of the Chinese Academy of Social Sciences.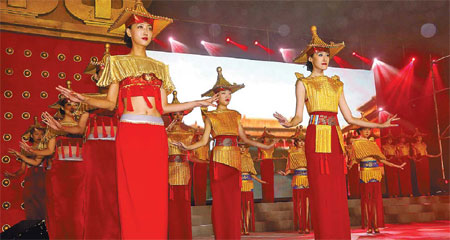 The Beijing Fragrant Hills Tourism Summit of World Tourism Cities 2013 closed on Friday at the Badaling section of the Great Wall with performances of traditional Chinese art shows. Lu Yong, secretary-general of the tourism-marketing group, said he was confident that the World Tourism Cities Federation will become the largest international organization for the promotion of world tourism development with the highest standards. Photo by Fu Zhenyan / Provided to China Daily
In the past, the absence of a strong civil aviation industry contributed to the slow development of an outbound tourism market and discouraged foreigners from making trips to China, the professor said at the Fragrant Hills Tourism Summit for the World Tourism Cities Federation, which opened on Thursday in Beijing.
"After a decade of rapid growth, the civil aviation industry has become one of the most important partners of the tourism sector and, on the other hand, tourism departments also have fueled the progress and upgrade of airlines."
He suggested airlines could further deepen their cooperation with tourism agencies and help satisfy tourists, or their passengers, by providing quality services and on-time flights.
In the civil aviation field, the airport is the first place that should be invested in if the government wants to attract more tourists, according to the professor.
"The airport is the very first thing that hits the eyes of travelers when they arrive in a foreign nation. It leaves the first impression of the country in their minds," he said. "Good infrastructure and services at the airport will give them a happy start to their journey."