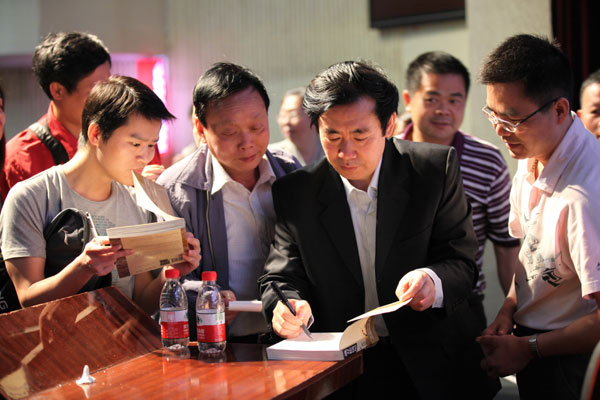 Author Zhang Wei draws a crowd of fans after his public speech about writing and cultural development in Guilin, Guangxi Zhuang autonomous region. Photos Provided to China Daily
Novelist Zhang Wei has become a literary icon in China thanks to his prolific but diligent work, and his writing is now reaching more foreign readers as well, Mei Jia and Sun Ye report.
Shandong-based writer Zhang Wei says he seldom has felt writing is a pain while producing the biggest body of works in contemporary Chinese literature for more than 30 years.
"Writing is one form of labor. Nothing brings more happiness than doing work, since labor keeps people healthy in mind and body," Zhang says, speaking in a slow and confident tone as he chooses his words carefully.
"But if one writes with utility, he won't deliver the message," says the author of 10-volume prize-winning novel You're On the Highland.
He is convincing, because he has survived the loneliness of a long individual quest in writing and has remained calm like "a big animal" in the process of creating 14 million quality words.
During the 2013 Beijing International Book Fair earlier this month, Writers Publishing House released 19 volumes of Zhang Wei's Chronicle of Novels, while Hunan Literature and Arts Press launched Zhang Wei's Chronicle of Prose and Essays in 20 volumes in Chinese.
Meantime, Canada-based Royal Collins Publishing Group presented two new titles in English on Zhang Wei. The first is an interesting and useful introduction, Mr. Zhang Wei: One of The Greatest Chinese Authors. The second is an eight-story anthology, The Best Collection of Mr. Zhang Wei's Short Stories, which aims to let foreign readers know the writer better.
Eric Abrahamsen, co-founder of Beijing-based translators organization Paper Republic, writes the former and translates the latter book.