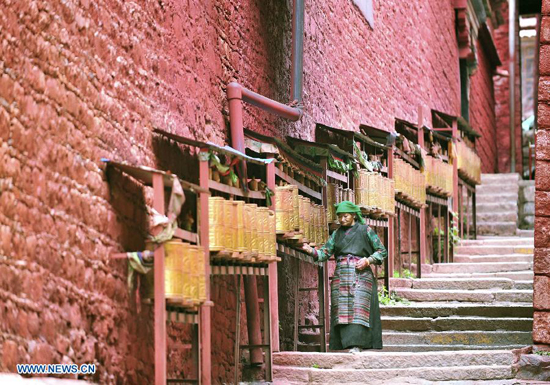 A pilgrim spins prayer wheels for a blessing at the Tsurpu Monastery in Doilungdeqen county, Southwest China's Tibet autonomous region, July 10, 2013. Founded in 1189, Tsurpu serves as the traditional seat of the Karma Kagyupa, or "White Hat Sect," of Tibetan Buddhism.[Photo/Xinhua]
Notes
1.It's advisable to apply for your travel permit at least 10 days prior to your entry date.
2.After you have got a permit, your travel agency can buy the air/train tickets for you.
3.The travel agency is unable to help you get the permit if you do not book any tour package from them. At present, no travel agency can provide permit-only service.
4.If you want to travel into border areas such as the base camp of Mt.Qomolangma, the Zham Township or the Medog County, a border pass is required both for Chinese and foreign visitors. The border pass is only available in Lhasa, where processing will take several days.
Tips:
Following are some of the areas where a border pass is needed. The list only includes the most popular places.
1.Shigatse Prefecture: Zhongba county, Sagya county, Nylam county (Zham), Tingri county, Kangma county, Yadong county, Gampa county, Dinggye county, Gyirong county.
2.Lhoka Prefecture: Cona county, Lhongzi county, Lhodak county, Nanggarze county.
3.Nyingchi Prefecture: Mailing county, Nang county, Zayul county, Medog county.
4.Ngari Prefecture: Burang county, Zhada county, Rutog county, Gar county, Shiquanhe township.
We recommend: