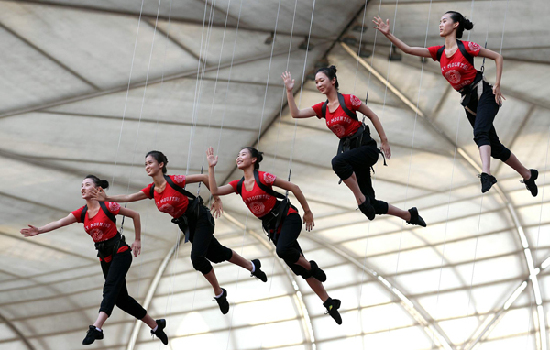 Acrobats rehearse the wire performance at the Bird's Nest for the show Attraction, which will be staged at the stadium from Sept 12 to Oct 7. Zou Hong / China Daily
An outdoor show to be staged in September at Beijing's Bird's Nest will have 31 flying men and women performing acrobatics on wires.
The show is so difficult to perform that its kind is rare to see anywhere in the world, the show's organizer says.
"The wire performance we used to see only hoisted acrobats up and down. It's static. But our wire show is dynamic. It enables our acrobats to interact with the audience," says Fan Yiwen, wire director of the show.
About 300 people started rehearsing the flying scenes on July 18. The performance is the centerpiece of the show Attraction, a large-scale open-air show at the main stadium of the Beijing 2008 Olympic Games that combines music, dance, magic and acrobatics.
According to Fan, the length of wires used in the show is 13,000 meters. Men and women will fly 38 meters into the sky, about the height of the stadium, in six seconds and perform different tricks.
Flying actors will fly from various angles to perform a fight lasting five minutes - the most challenging part of the performance.
The flying men in the show are from a martial arts school in Henan province. The school has taken part in many big performances such as the opening ceremony of 2008 Olympics.
"It's the first time for us to perform on wires 38 meters high. It's far more thrilling than a roller coaster," says Jin Chao, 18, who is set to graduate from the martial arts school this year.
There are about 260 students aged 15 to 18 from the martial arts school taking part in the wire performance. More than 200 people are pulling the wires, at least six people for each acrobat.
"In order to guarantee 100 percent safety for our performers, we choose to control wires by people instead of by computer. The scale and the degree of difficulty of our show is rare," says Fan, the wire director.
Attraction is to be staged from Sept 12 to Oct 7 at the Bird's Nest. It's the second year for Attraction to be performed at the iconic stadium. The show is designed for the stadium.