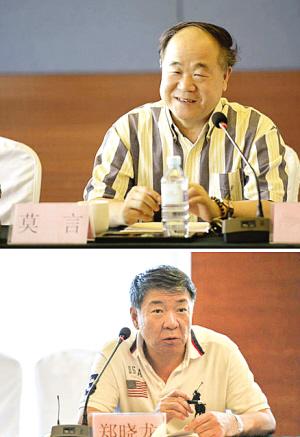 Mo Yan (above) and Zheng Xiaolong speaks at a preparation seminar in Beijing, July 15, 2013. [China.org.cn]
Nobel laureate Mo Yan has granted Shandong Satellite TV the rights to a TV series adaptation of his classic novel "Red Sorghum", the provincial satellite TV network announced on Monday.
Mo attended the preparation seminar with director Zheng Xiaolong, in Beijing. The author hopes that the new adaption will attract the current TV audience; he also revealed that he once tried to adapt the novel, in 2008, but it was very difficult to do so.
"Red Sorghum" has been adapted into a movie, in 1987, directed by Zhang Yimou. After its release, "Red Sorghum" won international acclaim and was awarded the Golden Bear at the 1988 Berlin International Film Festival. The internationally well-known movie positioned Zhang in the vanguard of the Fifth Generation directors.
But the TV edition of "Red Sorghum" was never materialized even when Mo's works were hitting the top selling charts and after he had received a Nobel Prize in Literature. Mo said that he could not remember all his thoughts from 2008, but hoped that the director would pay attention to some minor characters in the book, some characters that Zhang didn't quite portray in the film.
"Zhang Yimou's version of 'Red Sorghum' is so great and influential in the world," said Mo that many TV drama makers don't want to take a try.
"It's not easy," said Mo. "The TV version has waited for decades to come out. People come and go. Some don't agree because of money, some did it halfway and gave up."
However, Mo said it is also a good thing. "If we had done it several years ago, it might have become a low-quality drama about Chinese resistance against Japanese aggression," said the author. "That would be regretful. "