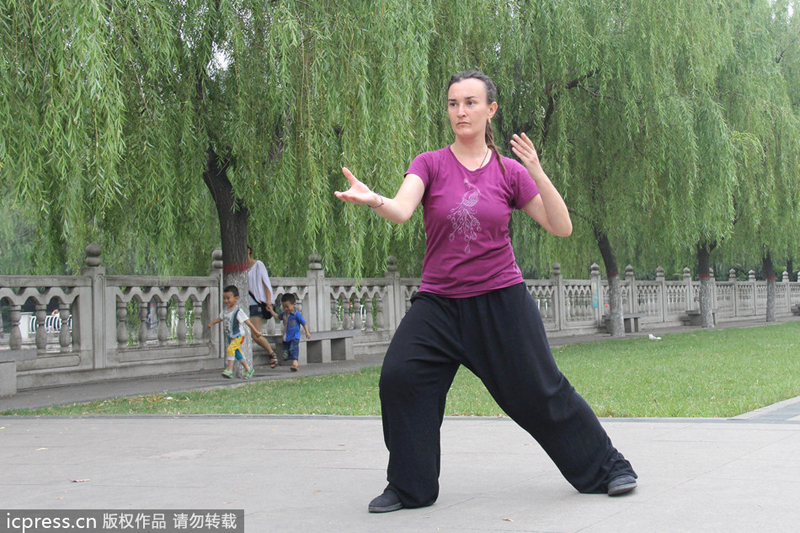 Sarah practices tai chi on the campus of Henan Polytechnic University, June 17, 2013.[Photo/icpress]
In December 2011,an English woman named Sarah Henderson-Sharon traveled to the birthplace of tai chi, Chenjiagou village in Wen county, Jiaozuo city, Henan province out of her love for tai chi. She studied Chen Style tai chi at a kung fu school which actually functions as a martial arts gym for farmers.
Sarah Henderson, 38, is from a small town in southern England and once taught English in a local private school. She studied Yang Style tai chi first in London and later in Korea for a total of five years. In Chenjiagou village Sarah worked very hard on learning Chen Style and Taiji Sword skills. In October 2012,Sarah was hired by Henan Polytechnic University, not far from Chen village, to work as an English teacher. She practiced tai chi on campus in her free time and went to a martial arts gym in Chen village on weekends and holidays. Today, she can move a certain way with elegant grace while practicing tai chi.
"Tai chi is a mysterious but very charming thing. It is one of the best means of fitness regimen and is both a form of culture and a martial art. I have different feelings in everyday practice. It is a very interesting thing to learn tai chi," said Sarah who is able to speak Chinese with a Wen county accent. She thinks that tai chi is definitely a part of her life and she will continue to work as an English teacher while studying tai chi for a long time. Sarah wants to introduce tai chi culture to more people when she returns to her country.
We recommend:
Shu embroidery: needle legends
Report reveals danger in traditional herbs