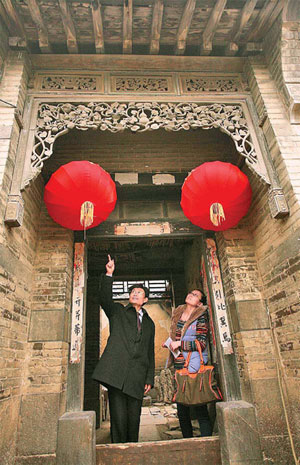 The mountainous village Zhujiayu is renowned for the preservation of its historical buildings dating to the Ming and Qing dynasties. (China Daily/Ju Chuanjiang)
Surrounded by mountains, Zhujiayu is a rustic holiday destination with buildings dating back to the Ming and Qing dynasties. Ju Chuanjiang and Wang Qian visit the village and are charmed by the unpolished gem.
Zhujiayu, a 600-year-old mountainous village in Zhangqiu, Shandong province, is a good place for some tranquility and to get in touch with nature. Lying in a valley surrounded by green mountains, Zhujiayu was rated as one of the 24 Famous Chinese Historical and Cultural Villages in 2005 by the Ministry of Housing and Urban-Rural Development and the State Administration of Cultural Heritage. The village is about one-hour drive from capital Jinan. With a population of only 2,000 even in its prime time, the isolated rural village is renowned for the preservation of its historical buildings dating to the Ming and Qing dynasties (1368-1911).
Zhujiayu is divided into old and new village, which is encircled by a huge ancient wall built with vast rocks.
As we enter into the old village through an arched doorway, numerous traditional buildings greet us against the pleasant scenery of the background mountains. Walking through the thoroughfare feels as though we are back in ancient times.
Because of the local geology, the buildings in the old village are mostly built from stones and rocks from its nearby mountains.
There are about 300 residential houses, temples, pavilions, bridges and courtyards from the Ming and Qing dynasties perched on mountainside, surrounded by endless forests, fields coated with blooming flowers.
Most buildings are only one or two stories high. Although some of houses look shabby and the paint has faded, visitors can still feel the village's former glory from the exquisite carvings on the windows and roofs.
Rivers and creeks flow down from the surrounding mountains, winding through the whole village. Owing to this, more than 90 quaint stone bridges have been built during the past centuries, each with different design and style.