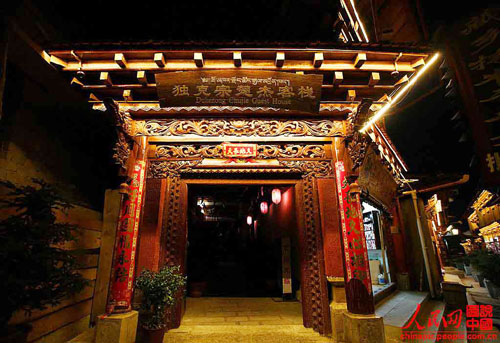 (chinapic.com.cn)
Edited and translated by Li Qian, People's Daily Online
In Shangri-La, there's an old town named Du Kezong, which means the white rock city in Tibetan language. It is the best preserved and the largest Tibetan folk group in China, and it also served as a hub on the tea-horse road. Du Kezong was built at the mountain foot, and the road here were bumpy. Visitors can still see deep hoof marks of horses on the stone road.
Du Kezong is the caravans' first stop after entering into Tibet. It is also a window of ethnic culture communion between Tibet and Yunnan, and a bridge of Han-Tibetan friendship, and also a bond of Yunnan, Tibet and Sichuan.
In 1936, the Red Army led by He Long arrived here. He put up his headquarters where important conferences were held.
Walking on the stone roads of Du Kezong, visitors can review the vicissitudes of the tea-horse road, turn the largest prayer wheel in the world, and feel the religious forces of Tibetan Buddhism.