15 Years of Obsession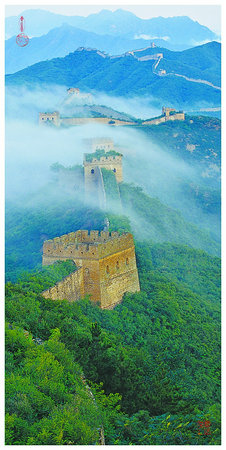 Gao's expertise is a result of 15 years of obsession and allows him to perfectly present the Great Wall's beauty and historical traces. His photographs are infused with emotion and he has impressed many by his ability to capture its grandeur and majesty.
When asked about his approach, Gao replies that both knowledge and deep understanding of this epic construction are needed to present its beauty. Otherwise you cannot achieve a satisfying result.
But Gao has another trick up his sleeve, courtesy of some former colleagues and experts on meteorology from when he worked at the Miyun Reservoir Management Office. They taught him about the best weather conditions for photographing. "Photographing the Great Wall demands knowledge on various aspects, including weather, history, and geography," Gao explained.
A Trickle Down Effect
The influence of Gao's photos has gone beyond his 978 Photo Studio. Erdaoliangzi Village is near the Jinshanling section of the Great Wall and home to around 20 households. In the past poverty forced locals to steal bricks from the Great Wall, but nowadays, thanks to Gao, this is a rare occurrence. Instead they have incentive to protect the beauty that exists in their backyard. Currently, on average every household can earn around RMB 10,000 annually by selling Gao's photographs on the Great Wall.
Although he has already produced many impressive works, Gao shows no intention of stopping his pursuit. Rather, he is becoming even more ambitious. He plans to use four cameras simultaneously to capture the night view of the ancient construction section by section in one long exposure, and then link the photos into one long scroll. "I want to write a textbook about the technique," Gao said enthusiastically, "sharing my experiences with generations." He also hopes to one day hold a photo exhibition themed on the Great Wall, featuring works by photographers from around the world.
Source: China Today