Gao Heping, a self-proclaimed "grassroots" photographer in his late 60s, lives in Miyun County on the outskirts of Beijing. This district is home to some of the most spectacular and iconic sections of the Great Wall, including Gubeikou, Jinshanling and Simatai.
He has long been a devotee of the Wall, entranced by its majesty and vibrant history. It has inspired much of his photography, which adorns the walls of his spacious 978 Photo Studio.
Life View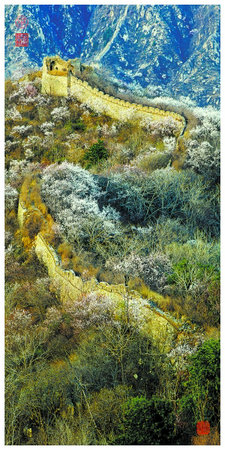 Gao first fell under the spell of the Great Wall when a small child, as it wound through his surroundings. However, during his teenage years he and his family of seven suffered the chaos of the "cultural revolution" (1966-1976) and Gao became their sole breadwinner. "In those 10 years, I was full of indignation, resentment and grief that could not be vented. Trials and tribulations were the theme of my life," Gao said.
But throughout the "cultural revolution" Gao continued to be awed by the grandeur, majesty and impregnability of this wonder of the world. "A philosophy of beauty is implied within it," Gao said. He explained the sense of tolerance, fortitude, open-mindedness and inclusiveness he draws from it. "The Great Wall has shaped my attitude towards life."
According to Gao, the Great Wall is not only personally significant to him, but also a symbol of Chinese civilization. "It seems that Chinese people's way of thinking is embodied in the Great Wall," Gao said. "For example, its defensive purpose embodies the Confucian concept wherein 'harmony is most precious.' The Great Wall is a national icon deeply embedded in the hearts of the Chinese people."
In the 1990s, a wave of rapid development swept the entire country, and Gao's luck began to change. He worked as a contractor on construction and communication engineering projects. After becoming a wealthy businessman, Gao felt a strong urge to photograph the Great Wall, because he felt it had helped him regain passion and confidence in life.
Gao surrounded himself with books and magazines about the Great Wall, including an atlas depicting it during different dynasties given to him by a fellow photographer, and spent 10 years buried in study. Only then did he set off on his photographic pilgrimage.