Chinese copper sculptures on show in Berlin
Updated: 2018-12-24 13:46
(Chinaculture.org)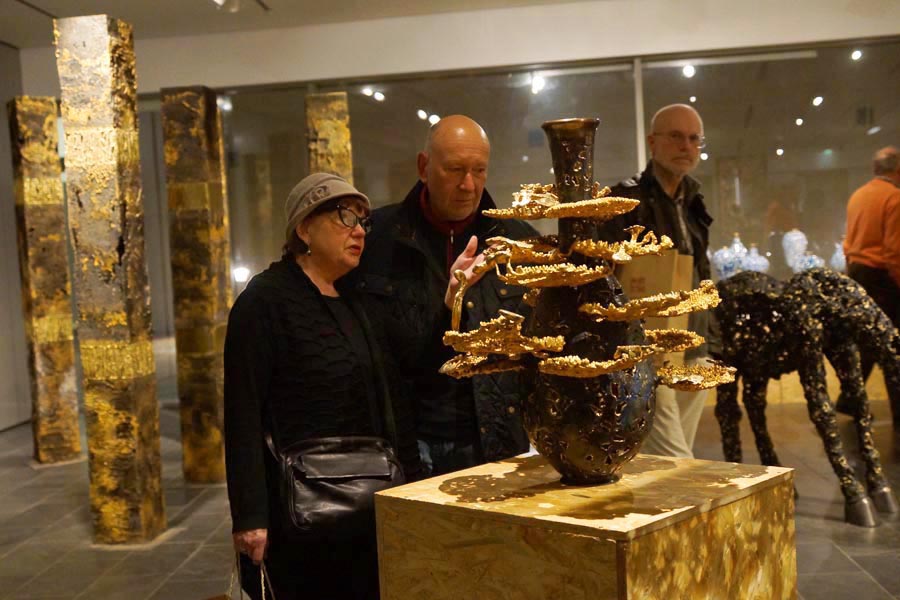 Visitors look at a copper sculpture on display at the China Cultural Center in Berlin, Dec 10, 2018. [Photo/Chinaculture.org]
Exhibition Chinese Intangible Cultural Heritage - The Art of Copper Sculpture showcases 16 sets of artworks created by Chinese craft master Zhu Bingren at the China Cultural Center in Berlin, offering a look into the history and development of Chinese copper art.
The exhibits include works for ornament use, murals and art installations.
Speaking at the event's opening ceremony on Dec 10, Chen Jianyang, head of the Chinese culture center, said Zhu Bingren is an inheritor of the age-old art form, who has been dedicated to the innovative development of the techniques of copper sculpturing for decades.
Bart'd Eyckermans, president of Royal Academy of Fine Arts (Antwerp), who is a co-curator of the month-long exhibition, said, "Art is the carrier of thought and an international language. People of different cultural backgrounds will have different interpretations of the same art, and the exchange of ideas will thus be triggered through such communication and dialogue."
The exhibition runs through Jan 15.