Chinese costume fashion show captivates Mauritius
Updated: 2018-02-26 11:20
(Chinaculture.org)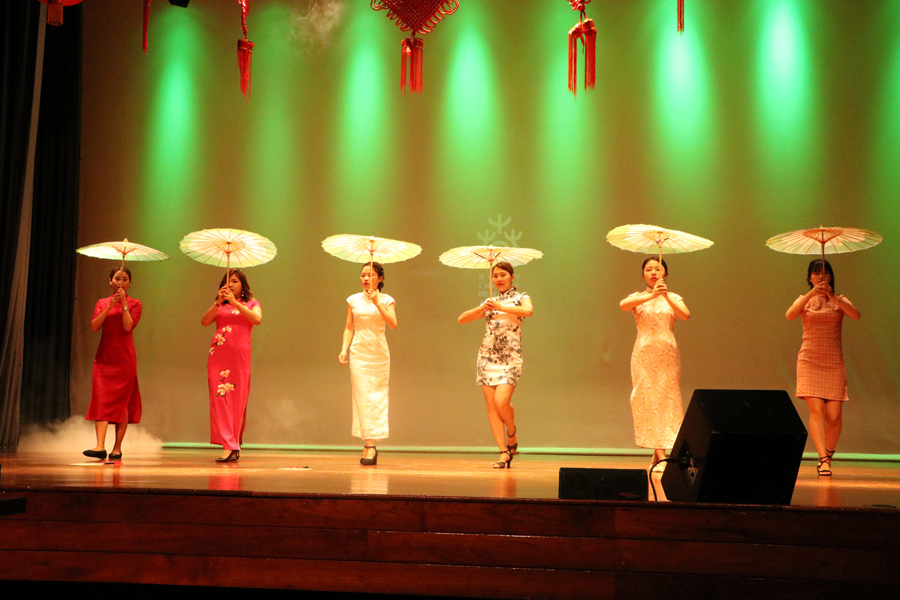 A group of Chinese teachers from the Confucius Institute headquarters ( Hanban) in Mauritius stage a qipao show during the "2018 Happy Chinese New Year" celebration at the Mahatma Gandhi Institute in Mauritius, Feb 20, 2018. [Photo/Chinaculture.org]
On Tuesday, a Chinese costume fashion show, co-organized by the China Cultural Center in Mauritius and the Mahatma Gandhi Institute, was held at the institute. The event themed "2018 Happy Chinese New Year", featured qipao dresses and costumes of Chinese ethnic groups.
A short film on Spring Festival customs opened the show, which helped the audience learn more about the culture behind the most important festival in the Chinese lunar calendar. After the film screening, teachers and students learned some short Chinese New Year phrases, like Xin Nian Kuai Le (Happy New Year), and Gong Xi Fa Cai (Wish you a big fortune) to express their good wishes to each other.
The qipao show, staged by a group of female Chinese teachers from the Confucius Institute headquarters (Hanban) in Mauritius, blew the audience away. Dressed in colorful qipao dresses decorated with delicate embroidery, and carrying colorful paper umbrellas in their hands, the women struck various elegant poses to demonstrate the beauty and grace of this quintessential dress for Chinese women.
Following the qipao show, over 30 teachers and students of different ethnic communities from the Mahatma Gandhi Institute presented a fashion show featuring costumes of different Chinese ethnic groups. Their performances drew great applause as they highlighted China's rich cultural heritage and the beauty of cultural fusion.