Chinese music star shines his art exhibition in Madrid
Updated: 2015-09-28 16:33
(Chinaculture.org)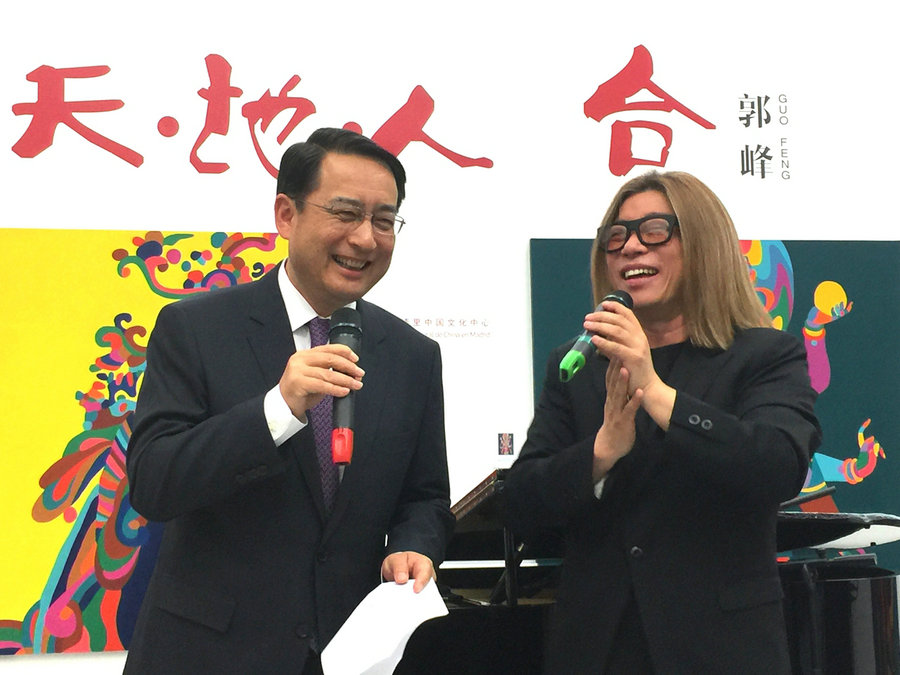 Chinese ambassador to Spain Lv Fan and Guo Feng make a speech at the opening ceremony. [Photo provided to Chinaculture.org]
A solo exhibition displaying Chinese musician Guo Feng's fine art opened up in Madrid China Cultural Center on September 22.
Guo Feng is widely known for his talents in pop music. Some of his songs such as "Let the World Filled with Love" (Rang Shi Jie Chong Man Ai) are landmarks in Chinese popular music history.
His exhibition, themesd "Heaven, Earth, People", showcases Guo's oil paintings and some of his ceramic artworks. Most of his paintings are inspired by Dunhuang culture, unveiling the legendary cultural heritage that dates back 2,000 years.
Guo's work integrates different forms of art, combining musical inspirations into fine art creations.
The exhibition drew wide attention from the public. Nearly 200 guests and visitors participated the opening. Among those in attendance were Chinese ambassador to Spain Lv Fan, cultural counselor Liu Wenqiu, and head of Madrid China Cultural Center Luo Jun.
The exhibition will move to Paris on October 16.