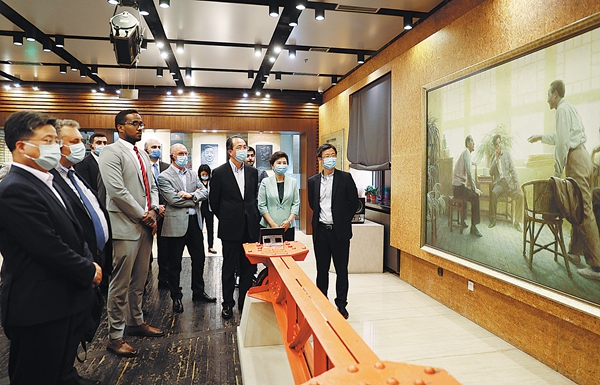 Diplomats from 55 countries, including Russia, Australia and Germany, stationed in Beijing were invited to view a Chinese play The Night at the Fragrant Hills, at the Beijing People's Art Theater on Tuesday.
The 114 diplomats watched as the play, with English subtitles, relayed events of the night right after the People's Liberation Army occupied Nanjing, declaring the collapse of reactionary Kuomintang rule, in April 1949.
The liberation of Nanjing is a highly symbolic event in the history of the Party, the military and the nation.
Directed by Ren Ming, president of Beijing People's Art Theater and written by scriptwriter Li Baoqun, the 90-minute play features two actors, Wang Ban playing the role of Mao Zedong and Fang Xu playing the role of Chiang Kai-shek, who enter a "dialogue" across time and space.
In March 1949, the Communist Party of China Central Committee made the Fragrant Hills its headquarters for half a year, as the Party led the War of Liberation (1946-49) to nationwide victory.
In the play, Mao was sleepless in his bedroom in Shuangqing Villa amid the Fragrant Hills in the western part of Beijing, because he was excited about the victory. Meanwhile, Chiang, who also couldn't fall asleep that night, returned to his hometown, Xikou, Zhejiang province, before he fled to Taiwan. With monologue and dialogue, they look back upon their lives and the wars they went through. Premiered in March, the play was produced to mark the 100th birthday of the Communist Party of China.
"I have read history about China but this play tells Chinese contemporary history through the two important figures' conversations, which is very interesting. I'm impressed by the actors' performances," said Sri Lanka's Ambassador to China Palitha Kohona after watching the play. "I am very interested in the messages told through the play. The Chinese people are the core to the CPC's victory."
Besides watching the play, diplomats also visited the theater's museum, which, founded in 1952, is one of the most famous in China. The theater, which will celebrate its 70th birthday next year, has put on more than 300 plays and toured worldwide.
"Since art bridges cultures and is a mutual language, we hope the event will help the foreign diplomats to better understand China and the CPC," said Wu Xu, director general of the Overseas Promotion Bureau, the State Council Information Office, organizer of the event.