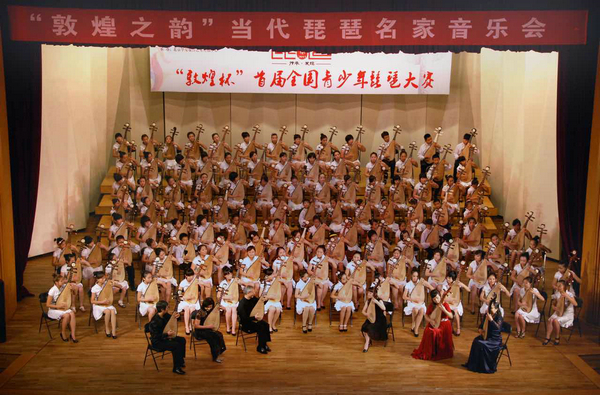 The first time that Guo Mingxuan saw a pipa in the home of her music teacher Chen Yu, she was 6 years old and she was impressed by the 2,000-year-old four-stringed musical instrument. To her the pear-shaped plucked instrument looked exquisite.
The Tang Dynasty (618-907) poet Bai Juyi described the sound of the pipa as "pearls landing on a jade plate". After Chen played Dance of the Yi Ethnic Group, one of the most popular solo compositions for the pipa, Guo was intrigued by the musical instrument's strong expressivity, as well as intricate and delicate tonality.
Guo's long relationship with the pipa had thus begun.
Born and raised in Xi'an, Shaanxi province, Guo has been learning the musical instrument ever since that encounter 20 years ago. She studied at Xi'an Conservatory of Music and the Central Conservatory of Music in Beijing, where she obtained her Bachelor of Arts and Master of Arts degrees. She now teaches at the Xi'an Conservatory of Music.
During the fourth Dunhuang Cup Chinese Pipa Artistic Elite Show, which concluded in February, Guo won the first prize with her performance of the pipa concerto Chun Qiu (Spring and Autumn) composed by Tang Jianping in 1994.
"That piece of music is one of my favorites," said Guo, who took part in the competition for the first time in 2011. "It fully displays the versatility of the pipa."