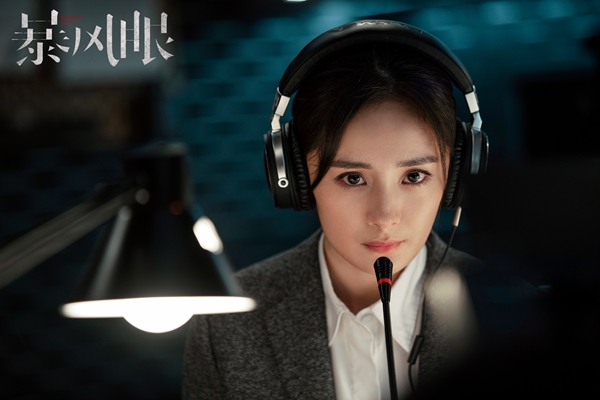 National security officers usually work undercover and keep a low profile, but a television drama has thrusted them into the limelight, highlighting their commitment to the country's safety.
Actress Yang Mi and actor Zhang Binbin star in the 40-episode drama Storm Eye as investigative officers An Jing and Ma Shang. Together with their team, they work to protect critical mineral resources, sensitive data and core technology, and root out espionage operations in the fictional city of Shuangqing.
The final episode aired on Zhejiang TV and Dragon TV on Tuesday. It was also broadcasted on streaming platforms iQiyi and Tencent Video, in which box-office tracker Maoyan says the drama drew around 580 million views on both platforms.
Zhang says he is really proud to be able to portray a young, quick-witted national security officer who has great perception and a strong sense of responsibility toward the public.
Ma, the character that Zhang played, is a national security investigator in his 30s. He works undercover as a human resource director in a technology company in Shuangqing, trying to search for clues to uncover possible espionage activities in the city.
Ma's undercover role is also kept a secret from his parents who think that he is just a human resource manager.
With Ma's help, the city's national security department learns of a plot by foreign powers to smuggle scarce resources and steal the company's core technology.
"Unsung heroes like Ma should get the credit and respect they deserve," Zhang says.
This is not the first time the drama's scriptwriter Liang Zhenhua created a modern spy thriller like this. Twelve years earlier, he wrote the script for the television series Secret War, which follows counterespionage efforts made by State secret protection officers to prevent design leaks of a satellite. The series sparked heated discussion among viewers on the importance of State secret protection. This encouraged Liang to keep finding subject matter in the field of national security.
However, national security is a sensitive topic to write about, so the Storm Eye script was written after repeated discussions were made with censors from relevant departments over a long period of time on where to draw the line. The script was based on carefully investigating published, unclassified information on some national security cases. The draft of the script was finalized in October 2018.
Liang also met and talked to many national security officers and their families to get a clearer picture of how they conduct themselves at work and in daily life.
"Most of them are levelheaded, prudent and unpretentious. And they are never boastful," recalls the scriptwriter.
Not only did Liang bring to light how national security officers uncover espionage operations and bring criminals to justice, but he also portrayed roles as a child, sibling, friend and lover in their daily life.
"Although they are ordinary people who have parents, lovers and friends, they have a dauntless spirit and an enormous sense of mission. They are even ready to sacrifice their lives for the safety of the country and its people," Liang says."That's very touching."
Liang says the stories told in the drama will raise awareness on various national security threats in the backdrop of new challenges brought about by a complex international environment.
"As citizens of China, we should be willing to know more and support the group of people who have spent most of their lives in obscurity safeguarding the country's security and defending its honor," he says.
He says it is meaningful to write stories about subjects related to national security.
"This kind of stories will surely feature patriotism and in-depth observation of human nature," he adds. "I hope I can keep exploring the field and create more well-rounded scripts in the future."