A new theater production will combine two forms of traditional Chinese opera to present the life story of Peking Opera master Mei Lanfang.
The first modern story production by the Kunqu Opera Theater of Jiangsu Province, Mei Lanfang tells of the youthful period of Peking Opera master Mei Lanfang (1894-1961), arguably the most legendary Peking Opera artist, who is renowned for his portrayals of young female characters.
On April 21, the new production will make its Shanghai debut at the Shanghai Oriental Arts Center as one of the 14 productions featured in the annual performance series of Chinese operas.
Shi Xiaming, director of the Kunqu Opera Theater of Jiangsu Province and the lead actor in the upcoming Mei Lanfang opera, held a dialogue at Shanghai Oriental Art Center with Shanghai-based Peking Opera artist Fu Xiru on Feb 28.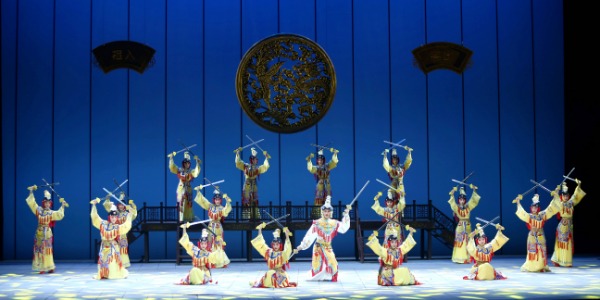 Shi served as the deputy director of the theater company before being promoted to director earlier this year.
"The administrative work has very much distracted from my dedication to opera art creation," he tells China Daily. "But it also gave me the opportunity to be involved in the decision-making process."
During the event, the artists shared their experiences of portraying the legendary artist and the obstacles they encountered in their efforts to promote opera to new audiences.
Both opera singers had to perform some of Mei's most celebrated episodes where he sang and danced as beautiful women.