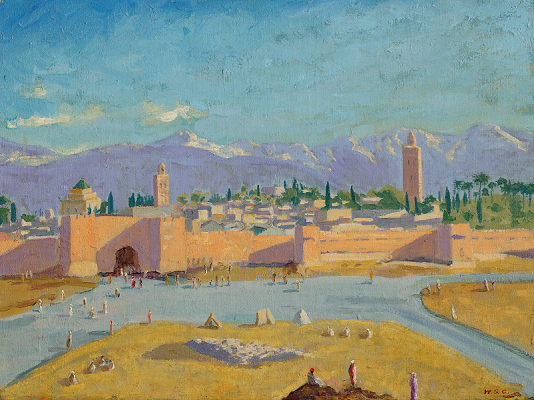 Winston Churchill, recognized as one of the most luminous figures of the 20th century, is also known for his enthusiasm for pain​ting. Even when he devoted all his energy to the wartime work during World War II, Churchill managed to execute a landscape depicting a breathtaking view of Marrakesh, Morocco, in 1943.
The work titled Tower of the Koutoubia Mosque, owned by Angelina Jolie, fetched 8.285 million pound ($11.59 million) at Christie's sale in London on March 1, a record for any work by the British politician at auction.
Churchill produced the painting, the only canvas he made during WWII, after he attended the Casablanca conference. He persuaded Franklin D. Roosevelt, who prepared to leave, to visit Marrakesh. It is said Churchill told Roosevelt that, "You can't come all this way to North Africa without seeing Marrakesh…I must be with you when you see the sun set on the Atlas Mountains."
From a tower of the place where they stayed, the two leaders enjoyed a view of Marrakesh and its landmarks, the Koutoubia Mosque and Atlas Mountains.
After Roosevelt left, Churchill stayed one more day to make the painting, and gave it to Roosevelt as a gift.
Churchill's interest in painting began when he was 40 and experienced a well-documented career setback.
Marrakesh was a place where Churchill loved to paint. Scene at Marrakesh, a painting he made on his first visit there around 1935, sold for 1.88 million pounds at the same auction.