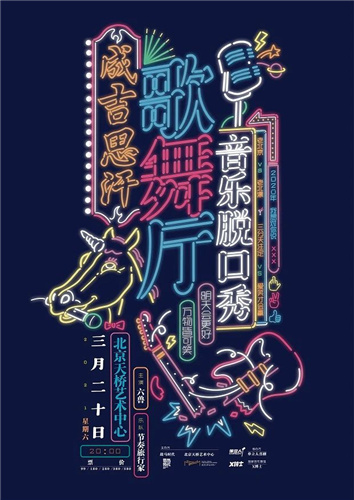 "You can have a good laugh, and tomorrow will be better." These words of optimism come from Stallion Era, a music company based in Beijing publicizing the premiere of its new music talk show Genghis Khan Song and Dance Hall. The show will be on stage at the Beijing Tianqiao Performing Arts Center on March 20.
The show is their first theater-level attempt in music talk shows in 2021. Meshing music with talk show, they have invited top comedians to join the cast from Danliren, a company in Beijing engaged in the production and promotion of stand-up comedies.
During the performance, there will be heartfelt jokes dedicated to beipiao, literally "Beijing vagabond", referring to the group of people who do not have a Beijing hukou (permanent residence). They came to the capital seeking opportunities and a better life.
The show attempts to blend the comedy with 1980s disco music performed by a live band.
Set against the backdrop of the pandemic, the comedy starts with the song and dance hall "Genghis Khan" facing difficulties in their business operations with big-name performers all stranded. In order to survive, the dance hall invited a "down-to-earth" local band to perform, and also brought in a "heavyweight" talk show actor Six Beasts (stage name).
The protagonist, a former employee of Smartisan, a Chinese technology company, is one of the most popular stand-up comedians in Beijing with an erudite and calm posture-a firm character behind a gentle appearance. He is now a full-time comedian and screenwriter, and anchor of the popular radio show Bored Studio.
"People may hope that they can hold on to their own lives, but as they approach their 40s, life is like soap in your hand when you take a bath, the harder you try the more it slips out of your hands," he says. "When you are faced with a complicated life, laughing may be the only solution."
In recent years, talk shows have become one of the most popular modes of entertainment among young people in big cities in China. Whether it is through online TV or offline performances, talk shows can most directly impress young people living at a fast pace, says the company.
Talk shows first appeared in the United Kingdom, and in 1929 when the United States experienced the Great Depression, talk shows brought much-needed humor to people, providing them with the possibility of "finding joy in hardship".
"Life itself is disordered and plain sometimes. Someone needs to sort it out in a certain way, and package life into an interesting story, joking about small interesting things that happen to oneself or others. This is the real meaning of the talk show," says Six Beasts.
The show's theme song will be reinterpreted and produced by the band Rhythm Travelers, from the classic disco Dschinghis Khan from Germany in the '80s. The Rhythm Travelers include lead singer Ji Wei, lead guitarist Zhang Xiaoxi, bassist Liang Chao, and drummer Qiu Kaili. This Beijing-based rock band has always insisted on breakthroughs and transformations, and it will be the first time for them to try retro disco.
Their rich stage experience and skillful techniques have precipitated their unique insights into music. As their band name suggests they are always on the road. They are excited and hope to feel the instant spark of the connection with the talk show.
With pandemic controls and the temporary suspension of foreign performing arts resources, the company taps into domestic originality and talents. It hopes that the new show will work as a breakthrough in terms of post-COVID art survival.