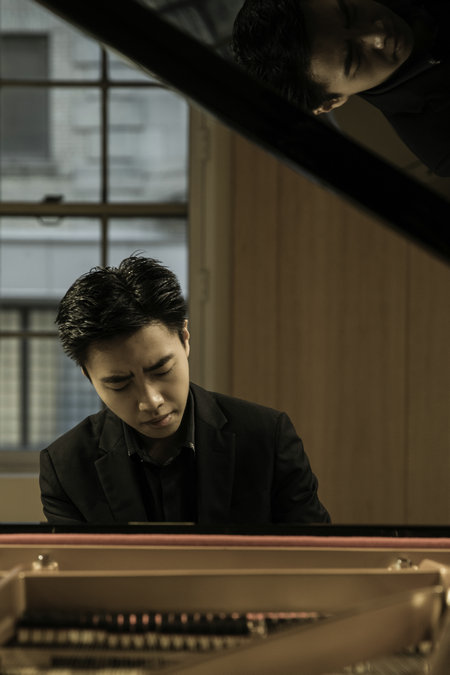 From the moment that the 13-year-old Chinese pianist A Bu gained wide attention by making his debut at the Beijing Nine Gates International Jazz Music Festival in 2012, it was clear that he wasn't your average teen pianist. He impressed the audiences, the musicians and critics with his seemingly limitless technique and a deep understanding of tunes written long before he was born.
Already a phenomenal figure in the Chinese jazz scene and sharing the stage with international jazz musicians such as Herbie Hancock and Wayne Shorter, A Bu, at the age of 21, who is pursuing his bachelor of music degree at the Juilliard School in New York majoring in classical piano performance, put out his third album on Dec 11.
Titled One Step East, the album has 11 pieces, with which A Bu explored the chemistry between the musical languages of the East and the West he absorbed.
The American bassist Larry Grenadier and drummer Eric Harland formed a trio along with A Bu and the trio recorded A Bu's new album at the Power Station New England studio in Connecticut last year. Matt Pierson, an award-winning producer who has worked with some of the best that contemporary jazz has to offer, such as the pianist Brad Mehldau and saxophonist Joshua Redman, has been invited to produce A Bu's new album.
A Bu has adapted the jazz classic piece Someday My Prince Will Come, which opens the new album. The last song of the album has the young pianist's rendition of Goodbye Pork Pie Hat, written by the great bassist and composer Charles Mingus and first recorded on his celebrated 1959 album Mingus Ah Um.