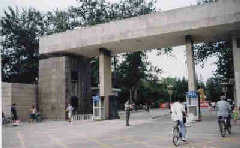 Renmin University of China (RUC) is a national key comprehensive university that mainly focuses on social sciences, humanities, economics, administration and management. The university was founded in 1950. It can be traced back to the Shanbei (Northern part of Shaanxi Province) Public School in 1937 and later the North China United University and North China University. Well-known Chinese educators Wu Yuzhang, Cheng Fangwu, Yuan Baohua,Huang Da and  Li Wenhai served as presidents of the University respectively. The current president is Professor Ji Baocheng, with Professor Cheng Tianquan as the Party Secretary.
The motto of the university is "to seek truth from reality." After more than sixty years of construction and development, the university has formed a complete educational structure and system, which includes full-time undergraduate, graduate (both MA and PhD) and adult higher education. An impressive variety of subjects and courses are offered.
At present, the institution is comprised of 17 colleges, a school of graduate studies, and 10 departments. The institution offers 54 programs that confer bachelor's degree, 89, master's degree, and 55, doctor's degree. There are also 25 key academic programs that have been approved by the state,as well as 8 postdoctoral programs. RUC also has 12 national key scientific programs doing research in humanities and social sciences. There were over 1,221 teachers at RUC as of 2001, among whom 836 are professors or associate professors. Today, the university has a total number of 22,414 enrolled students, including 5,593 candidates for the doctorate and master's degree, 7,480 undergraduates and 9,341 adult students.