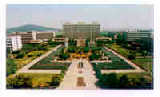 China University of Mining and Technology (CUMT) is well established as a national university. In February 2000, the school was transferred under the administration of the Ministry of Education, becoming one of the state universities directly supervised by the Ministry of Education.
The predecessor of CUMT is Jiaozuo School of Railroad and Mines, which was established in 1909. In 1951 the school was moved to Tianjin and renamed China Institute of Mining and Technology (CIMT). In 1952 the mining engineering departments of Tsinghua University, Beiyang University, Tangshan Jiaotong University joined CIMT. And it moved to Beijing in 1953 and became Beijing Institute of Mining and Technology. The institute was moved to Sichuan Province in 1970, and got the name Sichuan Institute of Mining and Technology. Then in 1978, the institute was rebuilt in Xuzhou City, Jiangsu Province, and restored to its original name: China Institute of Mining and Technology. In 1988 the school was formally named China University of Mining and Technology (CUMT). In 1997, the Beijing Campus of China University of Mining and Technology was established on the basis of the Beijing Postgraduate School of CUMT. In 1998 the Management Cadre's Institute of Coal Industry merged into the Beijing Campus. Thus the mode of the university management has formed with "one university, two locations and three campuses." In June 2000 the Ministry of Education permitted the university to establish the School of Graduate Studies.
CUMT currently has schools and departments with 46 undergraduate specialties, 48 graduate programs and 8 research stations for postdoctoral graduates. The total number of students is 23,497, with 20,098 undergraduates, 3,399 graduates and doctorates. More than 70,000 students have graduated from the school. CUMT has an experienced teaching staff with high academic level and many of them have made tremendous contributions and obtained wide influence. Among its 3,308 faculty members and working staff, 1,283 are full-time teachers. There are 5 academicians of the Chinese Academy of Engineering, 139  doctor tutors, and over 7 professors and associate professors.
CUMT is equipped with high-quality teaching and research facilities of 27 research institutes and 31 laboratories, some of which are listed as state-level or province-level key laboratories. Internet service is provided for all teachers and students. The CUMT library is furnished with an automated management system and has a collection of 117.6 million volumes of books. Other facilities in the university include CUMT Press, Science Hall, Gymnasium, Teachers' Club, Students' Club and a number of other cultural and recreational facilities.
With the development of the university, CUMT has continually opened up new areas for international academic exchanges and cooperation, establishing cooperative and exchange agreements and relations with dozens of universities and research organizations from the United States, the Great Britain, France, Germany, and Russia, etc.
Since 1990, the university has been awarded 18 prizes, including three national prizes, namely the National Natural Science, the National Invention, and the National Science & Technology Prizes. Now the school has undertaken more than 500 scientific programs and projects at the national, provincial-level and the level of municipalities directly under the central government.