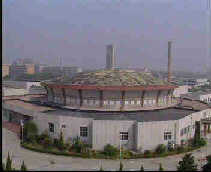 The University of Science and Technology of China (USTC) is the only university under the auspices of the Chinese Academy of Sciences (CAS). Currently one of the nation's key comprehensive universities of sciences, engineering, management science and humanities, USTC was founded in Beijing in September 1958 under the presidential leadership of Dr. Guo Moruo.
In the early 1970s, the university moved to Hefei, the capital city of Anhui Province. In July 1999, the Chinese Academy of Sciences, the Ministry of Education and the People's Government of Anhui Province signed an agreement, deciding to provide joint support to the construction of USTC, so as to build it into a world-renown high level university during the early part of the 21st century.
USTC has a graduate school in Hefei and a management school in Beijing. In collaboration with the CAS Hefei branch, USTC has set up a higher research institute in Hefei. There are now 10 schools, 24 departments and the Special Class for the Gifted Young on the main campus. The university offers 40 undergraduate disciplines, 82 programs that confer master's degree (including programs for MBA, MPA and engineering students), and 73 programs that confer doctoral degree.
About 1,830 faculty members are now working in USTC (Hefei), among whom there are 14 academicians of the CAS or the Chinese Academy of Engineering Sciences (CAES), 476 professors (280 doctoral supervisors), 721 associate professors and 50 postdoctoral researchers. Young and middle-aged faculty members make up more than 80% of the total number. They are energetic, ambitious and innovative.
USTC (Hefei) has an enrollment of 13,100 students, including 950 PhD students, 2,950 postgraduate students, 8850 undergraduate students and about 6,200 adult students involved in the continuing education programs.
USTC campus (Hefei) covers a total area of 1.33 million square meters and owns equipment worth RMB300 million for advanced scientific research. The library has a collection of 1.45 million volumes of books.