Initiated in 1992, Wuhan International Acrobatic Art Festival of China is held biennially in Wuhan of Hubei Province, Central China. It is jointly sponsored by the Bureau for External Culture Relations of the Ministry of Culture, the Bureau for Artistic of Ministry of Culture, China Acrobats Association, China Performing Art Agency, China Central TV, Wuhan Government, and the External Cultural Exchange Association of Hubei Province.
Wuhan International Acrobatic Art Festival is deigned to provide equal competition opportunities for outstanding acrobats in the world and opportunities for performers to exchange skills and learn from each other so as to boost the development and innovation of acrobatics, and to make Wuhan City a bridge connecting acrobats from all over the world.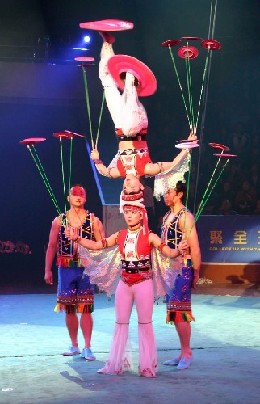 During the festival, the acrobatic competition is held in the form of public performance, with programs including stage acrobatics, trapeze acrobatics, juggling, comical buffoon, and circus act. The awards consist of the Yellow Crane Prize (gold, silver, and bronze) and Fangcao Prizes for Children (gold, silver, and bronze). The festival also sets up several honorary awards and excellent awards.
Wuhan International Acrobatic Art Festival has advanced venue facilities, and a set of competition regulations and awarding measures that resemble those of other international competitions.