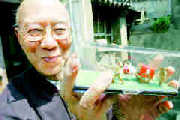 In Beijing today, Cao Yijian is the most famous of the several hairy monkey craftsmen, as he is also the man who resumed the production of hairy monkeys after its disappearance from the public for a long time, hence his reputation as "Hairy Monkey Cao".
It is well known to old Beijingers that there used to be craftsmen selling hairy monkeys at the small and large temple fairs, in the Dong'an market and around the Front Gate. Cao, who fell in love with the small toys when a little boy, often went to the Dong'an Market to gaze at them.
The craftsman, upon seeing the little boy so fascinated with the toys, told him the raw materials and basic techniques for hairy-monkey making. Back home, Cao set out to try his hand at hairy-monkey making. With painstaking efforts, he gradually grasped the essentials of the handicraft and became a master of it.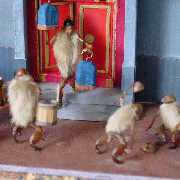 Over the last decades, Cao has been engaged in the making of hairy monkeys, not simply following in the footprints of predecessors or pursuing similar external forms, but rather treating it as a marvelous folk art. Cao has never ceased to try bold innovations, always trying to achieve a likeness in spirit, and to improve his techniques.
Cao's hairy monkeys, exquisite and original, cover a wide variety of subjects under five categories:
The first category of works mainly focus on traditional subjects, with a strong Beijing flavor,
The second category is about historical subjects, with lifelike images and profound implications. The "Martial Arts Circles" is a good example, which features five monkeys: a seated master, two that are practicing and two other that are standing by and watching. By their side stands a weapons shelf, on which are displayed eighteen weapons. The combination presents a grand Kung fu scene.