The Qinghai-Tibet Plateau, known as "the roof of the world", is filled with far-stretching mountains, lofty icy peaks and precipitous deep valleys. The Himalayas, the world's highest peak Everest, Gangdisi Mountains and the Buddhism sacred "Gangrenboqi" Peak are all found here. The mysterious plateau atmosphere helps bring forth people's pious religious belief.
Yishunbian(Hand and Foot Moving in the Same Way) requires the dancers extend their left (or right) hands and left (or right) feet at the same time. This step was formed under the special circumstances of the plateau where the lack of oxygen is serious and the road is rugged. When a person walks with a heavy load, he or she has to lean to one side, so the foot on that side will provide support. Naturally, the arm on the same side is similarly swung for balance. Since such a step saves a lot of effort and reduces danger, it is commonly used by people and is gradually elevated to a kind of dance. Another factor leading to the birth of such a dance is the different clothes and laboring tools used by plateau people. The dances of Dai and Miao people living on the Yunnan-Guizhou Plateau have the same features.
TheYishunbiandances can be divided into five general types:
The Waves Type. While dancing, the body and arm swing extensively to the same side, looking like waves in the sea, which are shown in theGoraxaof the Tibetan people and theMoonlight Dance of Axiof the Yis.
The Encircling Type. The active move from hip to shoulder leads the actions of the arms, forming a graceful posture, such as theSalangof the Qiang ethnic minority.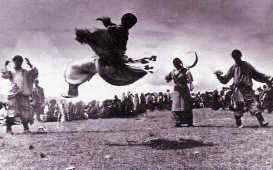 The Arc and Straight Lines Alternating Type. The waist is the major moving part, which engenders arc or straight movements of the body, such as those shown in theQiafusuziof the Tajik ethnic minority.
The Pendulum Type. The waist moves slightly, which is often found in the dance of the Miao nationality. The Miao women like silver ornaments. Besides complicated ones on the head, they also wear necklaces, arm and wrist bracelets, and heavy texture pleated skirts. Though they dance in a gentle way, the shining ornaments and skirts are attractive, thus forming a pendulum type of dance.
The S Type. In the well-balanced and steady rhythm, the relaxed waist and soft arms compose a posture like the letter "S", which is frequently seen in the Dai dances. This is due much to Dai people's love for water and peacock and pleated skirt.
The Tibetan folk dances are diversified. People in their daily lives wear the long-sleeveChuba,which adds charm to theYishunbiandance. Their pious religious belief enriches the dance with religious colors. Besides the temple danceChamo, there are alsoXa, Goraxa, ZhoiandRaba.