http://www.gmc.org.cn/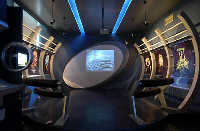 Located at the flourishing Xisi area of Beijing, the Geological Museum of China is the first national-level museum of geological science built by the Chinese people. First founded in 1916, it is by far the largest museum of geological science in Asia, and is famous all over the world.
The predecessor of the museum can be traced back to the Geological and Mineral Products Exhibition Hall of the Geological Investigation Office founded in 1916. It changed to its present name of Geological Museum of China in 1958 and, after renovation, was opened to the public on October 1, 1959, covering a construction areaof 11,000 square meters. As China's earliest geological scientific museum, it symbolized a new phase of the country's geological cause.
The Geological Museum of China is a landmark building in the Xisi area. Renovation of the museum began at the end of 2000 and lasted more than three years. It was reopened on July 14, 2004, featuring a harmonious integration of popular science, academic exchange, education, enjoyment, and recreation, besides the three traditional functions of collecting, researching, and educating.
The "Display of Mineral Rocks and Diamonds" is one of the museum's basic displays, lying at the second floor and covering 1,100 square meters. It showcases the beautiful mineral crystals and precious diamonds -- gems from nature.
The display won the Prize of Elaborate Works in the Sixth National Top Ten Museums (2003-2004) competition.