http://www.shanghaimuseum.net/en/index.asp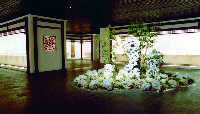 Exhibition of National Treasures of Painting andCalligraphyfrom the Jin, Tang, Song, and Yuan Dynasties 
As a museum of ancient Chinese art, Shanghai Museum possesses a collection of 120,000 precious works of art. Its rich and high-quality collection of ancient Chinese bronze, ceramics, painting and calligraphy is specially celebrated in the world.
Founded and first open to the public in the building previously of the horseracing club at 325 W. Nanjing Road in 1952 and then moved into the former Zhonghui Building at 16 S. Henan Road in 1959, the museum developed very quickly in aspects of acquisition, conservation, research, exhibition, education and cultural exchanges with other institutes.
In 1992, the Shanghai municipal government allocated to the Museum a piece of land at the very center of the city, the People's Square, as its new site. The whole construction took three years, from August 1993 to its inauguration on October 12th, 1996. The 29.5 meters high new building has a construction space of 39,200 square meters. Its unique architectural form of a round top with a square base, symbolizing the ancient Chinese philosophy that the square earth is under the round sky, is a distinguished architectural combination of traditional feature and modern spirit.
The present Shanghai Museum has eleven galleries and three special temporary exhibition halls. It extends warm welcome to the visitors from all over the world.
To celebrate the 50th anniversary of the founding of the Shanghai Museum, the grand "Exhibition of National Treasures of Painting and Calligraphy from the Jin, Tang, Song and Yuan Dynasties" was held in the museum from December 1, 2002 to January 6, 2003, in collaboration with the NationalPalace Museumand theLiaoning Provincial Museum.
The exhibition covered an area of 1,580 square meters, displaying 72 "national treasures" of painting and calligraphy from the Jin (265-420), Tang (618-907), Song (960-1279), and Yuan (1271-1368) dynasties.
The works on display were so ancient, famous, and valued that most had rarely -- if ever -- been shown to the public. Many may never be shownagain, at least not in the lifetime of anyone who saw this exhibition, so it was a priceless opportunity for them to have been displayed in one location.
During the 37 days of exhibition, the museum received more than 230,000 visitors, setting a record. Highly successful as it was, the exhibition was chosen as the Annual Top Ten News of Shanghai that year, causing an upsurge of passion for Chinese traditional culture and art among the people.
It would be very difficult to organize a similar-size exhibition again. The exhibition was a tribute to the vision and clout of the Shanghai Museum, which was celebrating its 50th anniversary that year. The works came from its own collection (32 items) and those of the National Palace Museum in Beijing (22 items) and the Liaoning Provincial Museum in Northeast China (18 items).
The exhibition won the Prize of Elaborate Works in the Sixth National Top Ten Museums (2003-2004) competition.