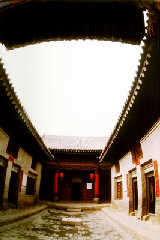 The Dingcun Museum of Folk Customs, a regional specialized folklore museum in China, reflects the living custom of the Han people in southern Shanxi Province. The museum is located in the south of Xiangfen County of Shanxi Province. It began construction in 1984 and was opened to the public on November 10, 1985.
The museum houses 33 residential houses arranged in three groups -- the north courtyard, middle courtyard and south courtyard, which were built during the Ming and Qing dynasties (1368-1911). The oldest house dates back to the Reign of Emperor Wanly of the Ming Dynasty (1593). The houses feature the typical layout ofSiheyuan(quadrangle) facing south. The building complex and various carvings are all excellent works of Ming and Qing residential architectural art. They represent the traditional life style and residential building design of the Han nationality.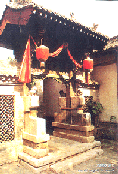 The museum boasts over 10,000 pieces of collections, including pottery, furniture, costume, farm tools, transportation tools, textiles, folk art and unearthed relics. There are several folklore displays with different themes related to the Han nationality living in southern Shanxi at the end of the Qing Dynasty (1644-1911) and the begging of the Republic of China, including the Display of Seasons and Festivals, the Display of Customs and Etiquettes, the Display of Folk Art and the Display of Production and Life. The six Qing houses with an exhibiting area of 2,700 square meters display over 2,400 cultural relics of folklore. Besides, the museum deploys displays on special topics such as Dingcun Culture, Dingcun Neolithic Age Culture, and Paintings and Crockery. The museum has also collected and compiled brochures such asSelected Traditional Folk Songs and Interesting Slang of Dingcun VillageandSelected Folk Couplets of Dingcun Village.