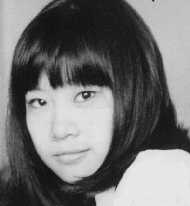 Yi Shu in 1964
Hong Kong is a land of miracles. Its popular literary boasts tremendous readership in Hong Kong, on the Chinese mainland, Taiwan and wherever Chinese live. Dubbed Three Miracles in HK's literary circles, romantic stories by Yi Shu, martial art novels by Jin Yong and science fictions by Ni Kuang have enjoyed unbelievable popularity for decades among all the Chinese people. As a female writer, Yi Shu stands out with her romantic but sober stories and concise and fashionable style.
Yi was born in Shanghai. She published her first short story when she was fifteen and has since become one of Hong Kong's best-known popular fiction writers, with a truly prolific output. Her representative works include Story of the rose and Once deeply in love.
Yi is a prolific writer, with more than 180 works published: full-length and shorter novels, short stories. Her writings are a vivid depiction of middle class life in Hong Kong, from the point of view of someone who has been influenced by both Western and Chinese cultural values.
Yi's family, which was an average middle class family, moved to Hong Kong from the mainland when she was a child. She is a natural writer and had her first story published when she was only 16. She worked as a journalist, and many of the events she covered gave her access to the upper echelons of Hong Kong society. She draws from this experience when writing her novels.
After establishing her reputation as a writer of idealistic romantic novels, Yi has branched out in recent years, and her works now include ghost stories, tales about dreams or unexplained phenomena and "life lesson stories" -- moralistic tales about how to deal with everyday problems. Although no market research has been done, it is estimated that more than 80 percent of Yi's readers are women aged between 15 and 35. Not only is she an extremely popular writer in Hong Kong, but her fiction is also widely read in mainland China, Singapore, Malaysia and other Southeast Asian countries.
Yi's work contains few cultural or literary references. Her readers prefer something entertaining and interesting, with characters similar to themselves. It is for this reason that Yi Shu is looked down on by the literary world in Hong Kong.

 Concise and Despairing
Even the writer's name is invisible at the end of a story, Yi's fictional works are easy to recognize for her unique and concise writing style. She likes using short sentences, and as few words as possible, managing to use pungent tones and providing sober insights into human deep heart.