Chi Li is a special figure among Chinese writers because she doesn't like to get together with people in literary circles. "If my unsociability is thought to be a flaw, I admit I'm a person with a flaw," Chi says.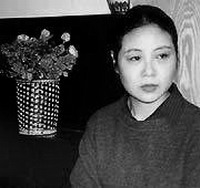 In contemporary Chinese literature, it's not difficult to find female writers. They are active and diligent cultivators of their art. However, most of them appear and vanish like meteors against the vast sky of literature, except for Chi Li. Among female writers, Chi uniquely stands out. Her novels have been best sellers since she picked up a pen and started writing some 20 years ago. At the age of 15, Chi expressed her love and piety to literature by composing poems.
"I wanna burn myself, only for you, literature," one of her poem exclaims. Chi's works weave vivid pictures with characters, depicting the daily lives of common people.
Chi was born in 1954 in Wuhan, Hubei province. Before attending the Institute of Literature at Wuhan University in the early 1980s, Chi studied and practiced medicine in the countryside. She began writing a year before going to the college, so magnetic was its appeal. One of her early novels,Nice Moon, earned her a reputation among critics. But great fame came to her in 1987 after her novelette,Troubled Life, was released. It was considered a masterpiece of neo-realistic novels.Troubled Lifejust served as a handsome beginning of Chi's writing career, a number of novels characterized by neo-realism came from her delicate pen, pouring a fresh stream into the vast ocean of Chinese contemporary literature.
Set in the large industrial city of Wuhan, Chi's stories focus on the lives of young people as they deal with troubles of love and marriage, and everyday problems such as job-hunting, housing, family planning and bringing up children. The detailed and earthy descriptions conjure up a vivid picture of life in China today. There's nothing special in their lives, but their experiences are just so real as Chi tells them, with her natural narration and vivid depictions providing a taste of their hopes and dreams.

 Chi Li: Best Seller
If best sellers existed in China's book market, Chi would absolutely be one of them.  Her books have enjoyed a large readership that other contemporary writers can only dream of. SinceCollection of Chi Li's Stories IVwas published in 1995, a large number of copies have been printed every year to meet the enormous demand in the book market. Till now, the 10th edition of the book has been published. And theCollection VandVIpublished later also have seen their 10th editions. More than 200,000 copies ofComings and Goingswere sold out two years after it was first published.