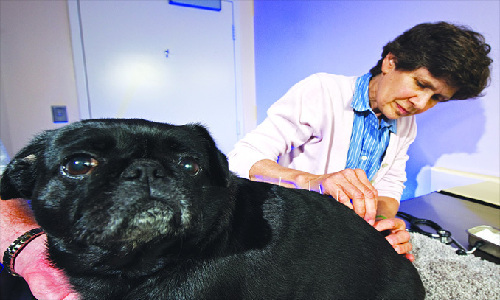 Veterinarian Marilyn Khoury inserts several acupuncture needles into the back of Rosko, an 8-year-old pug with back mobility problems, in Fairfax, Virginia, US.
Eight years after graduating with a bachelor's degree in traditional Chinese medicine (TCM) in London, 39-year-old Italian Giuseppe Demartis feels lucky that his dream of working with TCM has partially come true. A small hiccup is that instead of treating human beings, his "patients" are pets.
Italian law regulates that only doctors with a Western medical degree can become licensed to do acupuncture as long as they finish a part-time TCM course, over two or three years. Giuseppe, despite a full-time degree in TCM from Middlesex University, is not allowed to practice legally. "It's a big problem, as in most of these cases, the true essence of TCM is lost during these short courses," he explained.
Tough reality check
Giuseppe has tried several ways over the years to pursue TCM. He briefly taught TCM basics at the Oriental Medicine Center in Milan and treated certain psychiatric patients in rehab centers before opening a vet clinic together with his business partner - a veterinarian called Fabrizio Panzarella - in the heart of Rome.
Giuseppe says that, after several years of practice, his blend of Western medicine and TCM has proved to be very effective and has secured him a customer base from across Italy. However, the favorite memory of his TCM healing career remains when he helped a patient, who was a relative of Fabrizio, who had suffered a stroke. This had left him with a severe speech impediment and paralysis of the right side of his body.
"His condition was almost the same after spending six months in a top center and Fabrizio asked me if 'my' medicine could help," Giuseppe remembered. He began a daily course of specific acupuncture treatments for a month, after which the patient began to speak, walk and even play the piano again. The success on this case finally made Fabrizio, who was Giuseppe's friend at that time and "completely skeptical of the true potential of TCM and acupuncture," believe in TCM.
"We then decided to apply TCM and acupuncture on pets. We wanted to prove to the public and scientific community that animals do not have a placebo effect as they don't know the difference between acupuncture or an injection of antibiotics," he explained.
There is no sign of a foreseeable change in Italy's legislation to allow people like Giuseppe to legally treat patients with TCM. However, he feels he was luckier than his classmates as he was able to stay within the industry while most have given up. Chinese TCM educators say similar reality checks are common across the board for foreigners studying TCM. "In terms of their professional pursuits, it's usually not a smooth ride," Chen Feng, vice dean of the International School of the Beijing University of Chinese Medicine (BUCM), told the Global Times.
Established in 1956, the Beijing University of Chinese Medicine started to recruit overseas students for TCM studies one year later. Tens of thousands of overseas graduates have passed through the school's gates, with 1,700 alone in 2008. But Chen says most of them were unable to practice TCM, even after five years of study. "Most of them ended up working in completely different fields, some moved into herbal therapy and some are providing services for religious entities," Chen added.
Compared with European countries like Italy where TCM regulation remains unchanged, Chen said the wholesale boycott of TCM in South Korea since 2010 has seriously dampened local people's enthusiasm for this healing method.