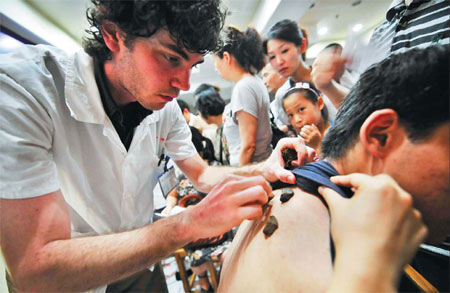 A foreign traditional Chinese medicine practitioner treats a Chinese patient in Zhejiang Provincial Hospital of TCM. Li Zhong / for China Daily
Traditional Chinese medicine, or TCM, is now gaining in popularity in Western markets due to the increasing demand for a more modern and nature-friendly lifestyle.
The China Association of Traditional Chinese Medicine says TCM industry output was worth $55 billion (43 billion euros) in 2011 and is expected to hit $88 billion by 2017, with an annual growth rate of 12 percent.
Tasly Group, a Chinese pharmaceutical company founded in 1994, is a pioneer in the TCM industry. In 2001, Tasly Pharmaceutical International Co Ltd (a subsidiary solely funded by Tasly) was set up to meet the global demand for TCM. After 11 years of international marketing, Tasly has a presence in more than 40 countries around the world.
In Africa alone, it has set up offices in eight countries - Nigeria, South Africa, Cote d'Ivoire, Benin, Mozambique, Zambia, Congo, and Burkina Faso. Its products have reached 14 African countries.
International drug makers have been exploring ways - including joint ventures and co-development partnerships - to use Western approaches to develop TCM drugs.
"No matter the model, we believe this bodes well for the industry in general, as it may help accelerate TCM standardization and modernization, as well as TCM acceptance in overseas markets," says Bruce Liu, partner and co-head of the Pharma & Healthcare practice at Roland Berger Strategy Consultants.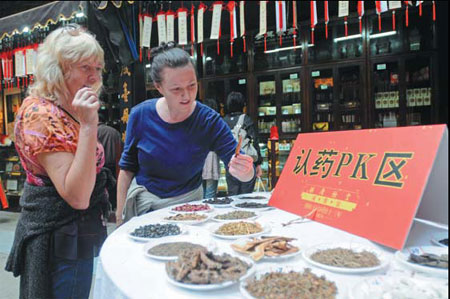 Foreign tourists check out TCM products in Hangzhou, Zhejiang province. Song Jianhao / for China Daily
Last November, Nestle Health Science, a fully owned subsidiary of Nestle SA, and Chi-Med, the pharmaceutical and healthcare subsidiary of Hong Kong-based Hutchison Whampoa Ltd, agreed to form a 50-50 joint venture to research, develop, manufacture and market innovative nutritional and medicinal products derived from plants.
The joint venture focuses on gastrointestinal health and may later expand into the areas of metabolic diseases and brain health, according to Nestle.