China will build 10 traditional Chinese medicine trading centers worldwide by 2015 to develop TCM services in Southeast Asia, Europe, the Middle East and North America.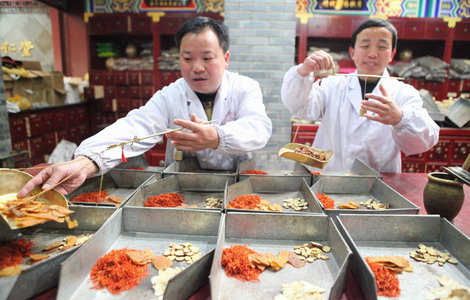 Medical workers prepare Chinese herbal medicines for customers at Huatuo Chinese Medicine Hospital in Bozhou, in East China's Anhui province. [Photo / China Daily]
The State Council Information Office held a news conference on Thursday to discuss advice given by 14 administrative departments on measures to develop the TCM industry. Building trading centers was one of the eight key tasks announced at the news conference.
According to a written reply from the State Administration of Traditional Chinese Medicine to China Daily, the government departments have not issued specific plans for the construction of the 10 trading centers, but the administration is already carrying out market research and seeking support to start a special campaign for the centers.
Other key tasks include fostering TCM talents, supporting scientific innovations and developing a statistics system for TCM trade.
Currently, China exports its TCM services, such as TCM training and medical treatments, to 160 countries and regions worldwide.
The services are provided mainly through the following channels - foreign tourists visiting China to gain TCM services, Chinese doctors providing remote service through the Internet and Chinese TCM doctors going abroad to practice medicine or to open clinics.
Statistics show that the total trading volume of TCM services is nearly 2.5 billion yuan ($397 million), said Wang Guoqiang, director of the State Administration of Traditional Chinese Medicine.
"The whole health industry will see favorable development in the coming years, both at home and abroad, and I believe TCM will have a large part to play," Wang said.
Wang also said that TCM services are facing challenges in the international market.
"The Chinese culture is so different from Western culture, so TCM still does not have high approval in some Western countries.
"At home, our understanding about international trading is not enough, and we do not have globally recognized TCM brands," Wang said.
He said funding for the industry should be boosted, and legal affairs and talents improved.
"TCM has a long history in China, and is an industry that China owns completely independent intellectual property rights," said Qiu Hong, assistant minister of commerce.
"As a result, developing TCM trading will accelerate spreading the Chinese culture to the world, enhance the TCM industry worldwide and benefit China's own TCM industry," Qiu said.
So far, several companies and institutions have presented successful overseas business models, such as Nanjing University of Chinese Medicine, Tongrentang and the chemical company Tasly Group, according to the State administration of TCM.
China has 36,000 institutes involved in TCM medical services, researching and training, 803,000 certificated TCM teachers and 15,000 people involved in new technology research and development of TCM.