Chinese mainland accounts for 2% of herbal medicine sales worldwide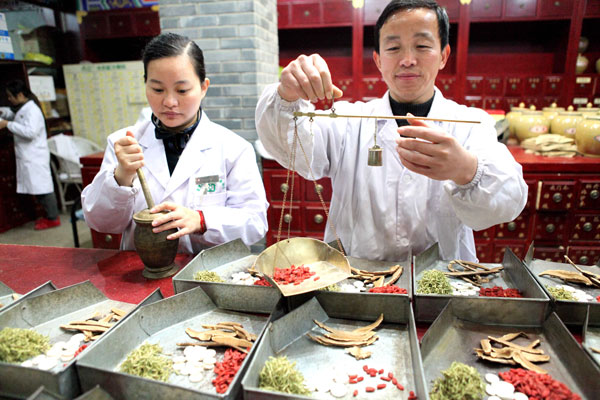 In the balance: Traditional Chinese medicine is facing an awkward situation at home while gaining in popularity abroad. Liu Qinli / For China Daily
While some Chinese scholars propose abolishing traditional Chinese medicine, foreign pharmaceutical institutions and industries are pursuing them.
More than 100 countries and regions around the world have set up TCM institutions, with the United States, Europe, Japan and South Korea investing heavily in related research and medication development, industry, analyses show.
The UK-based pharmaceutical company GlaxoSmithKline PLC announced its first TCM medication research and development program, which targets not just the Chinese market, but the global one as well.
"TCM is a well-established medical science based on thousands of years of clinical practices. It shows great promise treating complicated conditions that the single-target Western medicine has failed to handle," said Zang Jingwu, senior vice-president and head of GlaxoSmithKline's R&D in China.
"Our priority is to transform TCM from an experience-based practice to evidence-based medicines through innovation and differentiation," he said.
Currently, a 10-person team in Shanghai is in charge of the program, with a medication candidate for skin disease in the works.
Zang, a US-trained neurologist, said TCM is more of a multi-target therapeutical approach, which might work to treat complex conditions.
He said an example of this is ginkgo biloba leaf extract, approved in Germany, which, according to China's pharmacopeia, is TCM in essence. Globally, ginkgo biloba leaf extract is widely used to treat dizziness and ringing in the ears.
Industry insiders call such products "exotic TCM". In ancient TCM works, ginkgo is known for restoring consciousness.
"That is similar to our approach in TCM R&D," he said. He referred to skin diseases for which medications can demonstrate more evidence of effectiveness as a top candidate for TCM. Other areas of research that also show great promise include stomach and intestinal diseases and supplementary treatments for cancer, he added.