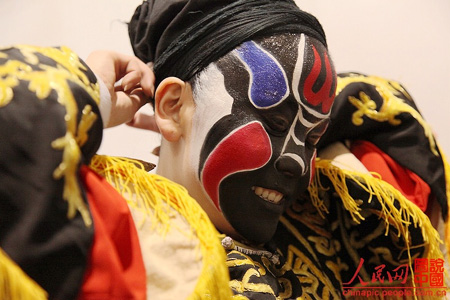 Xue Qiaoping's stunt of teeth playing wins the audience applause at the Cultural Expo held in Yiwu. Xue, 32, is the sixth generation descendant of teeth play of the traditional Chinese opera Ninghai Flat Tone created by Zhejiang artists more than a century ago. The essence of the opera is called "shuaya" in Chinese - literally, teeth playing.
Many people got to know Xue and her teeth playing since she took part in the variety show called China's Got Talent held by Zhejiang TV in 2011. A slim young lady with big smiling eyes, Xue was unrecognizable on stage when a dozen long pig's teeth flail from her mouth and nostrils.
Xue often performs with 12 buckteeth at once, 10 in her mouth and two in her nostrils - and if you don't think that is enough, she also needs to speak, sing and do acrobatic fighting at the same time. While it might be impressive to watch her perform, mastering the skills was a slow- and painful process that took her over 10 years.
According to Xue Jiaji, the head of the Ninghai Flat Tone Troupe, now only three performers born after 1980s have the stunt and Ye Quanmin, the second-generation descendant of teeth playing in China.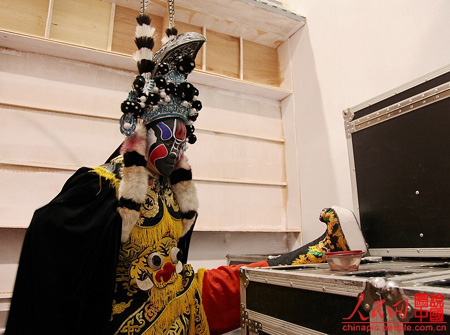 The hardship of learning the traditional performances soon scared away the other girls. Only Xue kept practicing. "I thought of quitting once, but I didn't give up," she said, "I take it as my responsibility to sustain the 400-year-old heritage."
"The teeth are made of pig's buckteeth, and they smell terrible. When I put them into my mouth for the first time, I felt really sick," Xue said in the China Got Talent variety show. "It has been a week that I could not eat and drink because my mouth was all cut up by the sharp ends of the teeth," she said.
Xue learned teeth playing when she was around 18. Teenage girls at that age all dream of being pretty. However, she eventually overcame all the pain and became a sixth generation performer of shuaya - and the first female in history.
Those buckteeth for teeth playing were unique in the world which are selected and grinded to fit the performers' own teeth. Xue kept those buckteeth in mineral water in normal times. Buckteeth are as precious as her life, in Xue's words, and if she lost those teeth the stunt would lose forever. A pig has only two buckteeth and it is not easy to find a pair of buckteeth from dozens of pigs to fit with her own teeth, she said.
Ninghai Flat Tone, also known as Ninghai opera has a history of more than three hundred years. It appeared in Ming Dynasty (1368 to 1644) and got popular in Qing Dynasty (1644-1911). In 2006, Ninghai Flat Tone was listed as a national cultural heritage.