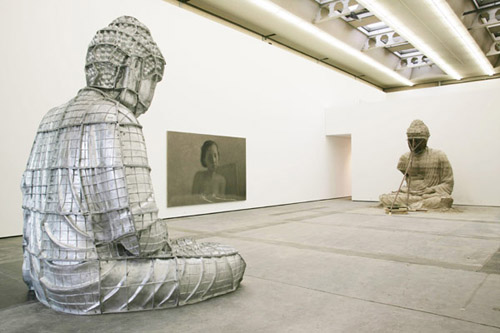 The 2013 Art Stage Singapore features Chinese artist Zhang Huan's Berlin Buddha. Provided to China Daily
Chinese artists formed the second largest contingent after Singapore in this year's just-ended Art Stage Singapore, one of the leading contemporary art fairs in the Asia-Pacific region.
Representing Shanghai were the Purple Roof Art Gallery and ShanghART Gallery, and Aye Gallery and Triumph Art Space from Beijing.
The galleries presented a comprehensive tapestry of Asian works of art, with prominent artworks by established contemporary artists such as Zhang Huan, Mu Boyan, Zhou Tiehai, and young budding artists like Shi Jing.
"There is really nothing like Chinese art," shares Amos Aldren, an avid Chinese art collector from Melbourne, Australia. "Take for example, Zhang Huan's work, which features philosophical ideas of yin and yang in Berlin Buddha. Nothing typifies Asian more strongly than that."
China remains an important factor in the international contemporary art market today with a distinctive presence in the Asian art market, which, according to art fair director, Lorenzo Rudolf, "has proven itself to be a mainstay and has forged global tastes."
The Chinese galleries displayed various contemporary art forms at this year's event.
A tongue-in-cheek piece by Lee Kit shows a hand-painted tablecloth. An installation by Mu Boyan of a rotund character scaling a tall stepladder depicts how society's individuals are "fat with resources but are never satisfied".
The philosophical works of one cutting-edge artist, Shi Jing, exhibit acrylic paintings that are solely in black and white and illuminated using different colored lighting. It presents the different facades of what initially seem like a two-dimensional picture.
The annual event, which is in its third year, was held between Jan 24 and 27.
It took up not one, but three international convention halls at the iconic Marina Bay Sands, with every wall filled with art pieces - offerings proudly presented by a kaleidoscope of internationally acclaimed galleries and artists.
On its first day, the fair opened its doors to some 7,000 art aficionados from all over the world. Visitors to the fair were greeted by The Floating Skeleton, the first of many installation pieces at this year's event by the entrance.
Contributed by fairground design architect WY-TO, the massive web-like structure resembles a bridge made up of interwoven metal and cloth.