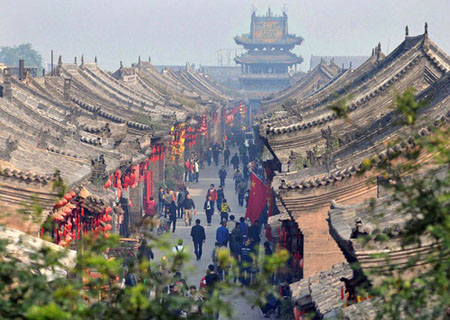 Shanxi province is to form a cultural ecological protection zone that will encompass several central areas, including Pingyao, a UNESCO World Heritage Site.
The move is aimed at preserving the cultural heritage of the region and developing tourism, Wu Qinghai, mayor of Jinzhong, said on Sunday.
He was speaking at the ongoing annual session of the people's congress, the province's top legislature.
According to Wu, the zone will cover 11 counties in Jinzhong, as well as eight other cities and counties administrated by the provincial capital Taiyuan, and the prefecture-level city Luliang.
The provincial government will introduce policies covering land and finance, he said.
Jinzhong is famous for its cultural resources. The city hosts 15 national-level intangible cultural heritage and 44 nationally protected cultural relics, said Wei Mingxi, a deputy to the congress, and former head of Pingyao county, listed as a UNESCO World Heritage Site for its old town in 1997.
The establishment of the Jinzhong cultural ecological protection zone is part of the coal-rich province's strategy to develop its culture industry and transform its industries, he said.
Planning for the zone is complete and has been approved by the Ministry of Culture, Wu said on Sunday.
According to Shanxi Evening News, the protection zone will develop 15 cultural tourism projects, with total investment reaching 30 billion yuan ($4.82 billion).
In 2010, the ministry listed the province's central area among the 10 national-level cultural ecological protection zones.
The ministry said in a statement in February 2010 that vocational schools and colleges in those protection zones should be involved to preserve intangible cultural heritage as well as traditional culture, and called for public participation.
Wu called for more training in preservation skills because the city has numerous intangible cultural heritage.
At Pingyao Vocational School such courses are already teaching people how to protect traditional culture, he said.
As part of the government's support programs, a higher education center will be built in Jinzhong. About 10 universities for 146,000 students and teachers are expected to be on the campus, he said.
Guo Hong, a researcher at the Chinese Academy of Culture Heritage, said he feels vocational training courses are a good way to preserve the intangible cultural heritage.
However, Guo said education programs became less attractive to students if employment may be a problem for the graduates. He said the government should make efforts to promote the programs.
Source:China daily